Access to the proposed new Eye Hospital will be important.
From our recent survey, we know that 80% of patients who attend Sunderland Eye Infirmary currently arrive by car and 13% rely on public transport. Regardless of how people get there, the new City centre location offers much improved access and excellent transport links. For those who do attend using public transport, local networks are within close walking distance for bus, train and metro facilities.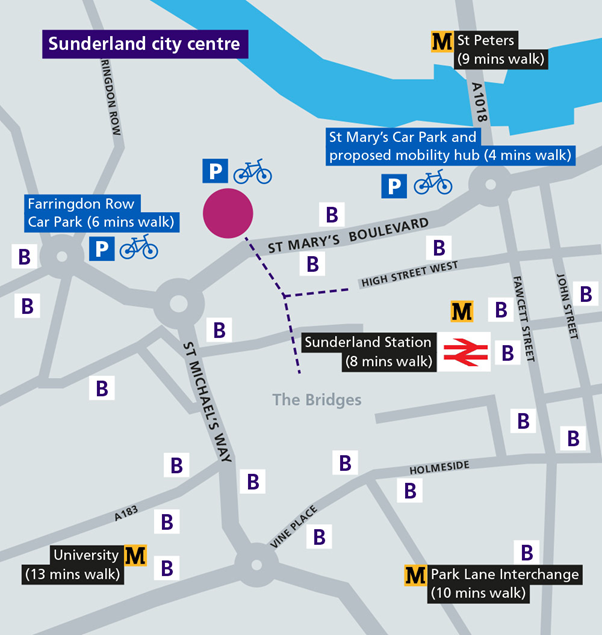 Car parking
​​​​​​​There will be a dedicated on-site car park at the new Eye Hospital with 90 spaces. This will include accessible bays and electric car charging points.
In addition, a new car parking facility providing 650 spaces is planned nearby at Farringdon Row. 100 of these spaces will be dedicated for staff at the new Eye Hospital.
For those who are travelling to the new Eye Hospital by car, there is also the existing multi-storey car park at St Mary's. These will also include electric car charging points and agreed rates for permit holder
parking.
Mobility Hub
In line with the City's ambition to become carbon neutral, a 'mobility hub' is also being planned close to St Mary's car park. This will offer access to a car share club, e-bikes and e-scooters for people accessing the Riverside Sunderland development, including the new Eye Hospital.
Pedestrian access
Naturally blessed with views over the River Wear, the new Eye Hospital will be connected to the Riverside Sunderland development with new walkways, parks and attractive landscaping to help people enjoy the
outdoor space and peace and tranquillity of the riverside. By 2023, a new pedestrian crossing will better provide better links to the north side of the River Wear.
Bus Stops
St Mary's Boulevard (EB) 2 minute walk
St Mary's Boulevard (WB) 1 minute walk
Fawcett Street (NB) 8 minute walk
Vine Place/Holmeside 8 minute walk
John Street (SB) 10 minute walk