Published on: 23 September 2020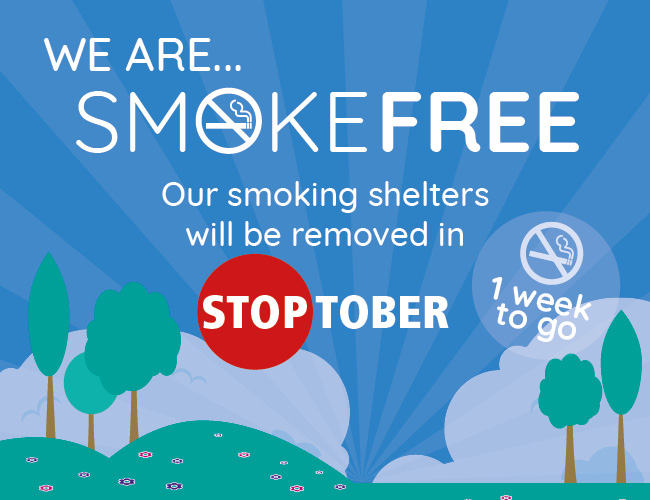 Smoking shelters are to be removed from the grounds of South Tyneside District Hospital and Sunderland Royal Hospital, cementing South Tyneside and Sunderland NHS Foundation Trust's commitment to become a truly smokefree organisation.
To mark the start of 'Stoptober', the Trust is removing all designated smoking areas which are currently situated in the grounds of its two main hospitals in South Tyneside and Sunderland.
From 1 October, the smoking shelters will be removed to further stress that smoking is not permitted anywhere on the hospital grounds. To support the move, the Trust has installed a new speaker system at its main entrances to remind people that smoking is not allowed.
Earlier this year the Trust announced its vison to become a smokefree organisation and smoking is no longer permitted at any of the Trust's hospital and community venues across South Tyneside, Sunderland and Durham.
What this means for patients, visitors and the public:
It is not permitted to smoke on any South Tyneside and Sunderland NHS Foundation Trust site
Inpatients will be offered Nicotine Replacement Therapy to help them manage any cravings for the duration of their hospital stay. They will also be offered a referral for ongoing support.
If people smoke they must do so offsite.
Anyone found smoking on Trust premises may be politely asked to put out their cigarette, or move offsite.
The Trust supports the use of e-cigarettes in the grounds but not inside buildings. For the comfort of others it asks that you do not use these at the entrances of buildings.
Ryan Swiers, Public Health Consultant at South Tyneside and Sunderland NHS Foundation Trust, said: "As a healthcare organisation we are committed to improving the health and wellbeing of our staff, patients and visitors.

"By removing the smoking shelters we are sending a clear message that we are taking every possible step to discourage smoking and keep everyone on our sites safe from second hand smoke. As an organisation we're committed to offering smokers the practical support they need to make a quit attempt or to remain smokefree whilst they are an inpatient."

"Stoptober is the perfect time for smokers to try and make a quit attempt and in light of the COVID-19 pandemic, there has never been more important time to look after our respiratory health."
William Walton, 50, is patient at Sunderland Royal Hospital and he fully supports the Trust's smokefree vision.
The Dad-of-two from Whitburn, said: "As an ex-smoker myself, I know how difficult it is to give up smoking. I have a blood cancer called Myeloma, so I regularly visit the Phoenix Unit for chemotherapy.
"I've got to come via the Kayll Road entrance next to the smoking shelters and it's not nice for people to have to walk through smoke when they're coming into hospital.
"I think it's a good idea for the Trust to stop people smoking onsite, it's good for patients, it's good for smokers and it's good for the Trust grounds."
Backing the campaign, Jarrow MP Kate Osborne, said: "I am proud to support South Tyneside and Sunderland NHS Foundation Trust's smokefree vision and its pledge to become a truly smokefree organisation.
"I fully support the Trust's decision to remove its smoking shelters. Many people who access our local hospital services are particularly vulnerable to the harmful effects of second-hand smoke. By creating a smokefree environment, the Trust is protecting those people from exposure to second hand smoke and immediate harm.
"We know that smoking has devastating consequences for individuals and their families and it is a sad fact that smoking remains the largest cause of ill health and premature death in the North East.
"The outbreak of COVID-19 has really brought home how important it is to look after our respiratory health, especially for smokers, who are at a higher risk of more severe symptoms of the virus.
"Now, more than ever, is a crucial time to consider giving up smoking and I would urge people to seek out the support of stop smoking services."
For further advice and support to stop smoking contact:
Patients from South Tyneside can refer themselves to the Change4Life Stop Smoking Service by calling 0191 424 7300
Patients from Sunderland –can call the Sunderland NHS Specialist Stop Smoking Service on 0800 169 9913.
Or you can call the national NHS Smoking Helpline number 0300 123 1044
If you have any queries about the Trust's smokefree pledge, please email stsft.prevention@nhs.net