While we accept donations to all of our 300+ funds at any time, we will occasionally run appeals for specific facilities or pieces of equipment.
Often the service/ward will have identified something that would be beneficial to its patients, but it is something that cannot be funded through normal NHS sources and the service's own charitable fund does not have the funds to cover the full cost.
See below for details of our current appeals;
Jack and Maisie's 100,000 step challenge in aid of South Tyneside and Sunderland hospitals
Sunderland youngsters Jack Berry and Maisie Jones are following in the footsteps of NHS fundraising hero Captain Tom Moore by taking on their own challenge in support of their local hospitals.
Jack, 13, who is severely autistic and verbally communicates only with members of his family, was inspired by the tale of veteran Capt Tom, who originally aimed to raise just £1,000 for NHS Charities Together by completing 100 laps of his garden before his 100th birthday on April 30th. In fact, he has raised an incredible total in excess of £26 million.
Jack and cousin Maisie decided they wanted to do something similar to raise money for South Tyneside and Sunderland NHS Foundation Trust's charitable fund and came up with the idea of a 100,000-step challenge and they are each doing steps as part of their daily exercise. The challenge was launched on Saturday (18th) and their target of £500 has already been exceeded, with the total at well over £600 and rising.
Jack's mum, Sara Berry, of South Hylton, said both children wanted to do something positive in the current circumstances.
She added: "They have a very special bond; Maisie is Jack's rock and she looks after him. Jack has a mental age of six or seven and, until a couple of years ago, he didn't show any empathy. Thanks in a large part to the Barbara Priestman Academy where he's a pupil, he has now become a more thoughtful boy. He doesn't want anything for himself, he just wants people to be proud of him, regardless of his disabilities."
The family has strong ties to Sunderland Royal Hospital, where Jack's autism was diagnosed when he was a baby and where he is a patient of Dr Karen Horridge, Consultant Paediatrician (Disability). Sara was a healthcare assistant at the hospital for 14 years, until she had to leave to care for Jack, and her mum Susan Berry and sister Victoria Jones - Maisie's mum - work there as secretaries.
Dr Horridge said: "Very well done to Jack and Maisie for their kindness and efforts to support the NHS at this time. We wish them the best of luck with their challenge and look forward to hearing about their progress."
Sara said: "We understand that people may not have the funds at the moment but any donation for Jack and Maisie's 100,000-step walk from those who are able to contribute will be greatly appreciated."
South Tyneside and Sunderland NHS Foundation Trust's charitable fundraiser Philip Bithell added: "We are thrilled that Jack and Maisie want to do their 100,000-step challenge in aid of the Trust and we wish them all the luck in the world. Through the generosity of fundraisers, such as Jack and Maisie, we are able to invest in in patient care and support for our outstanding teams who are working around the clock during this unprecedented time."
Tour De Hume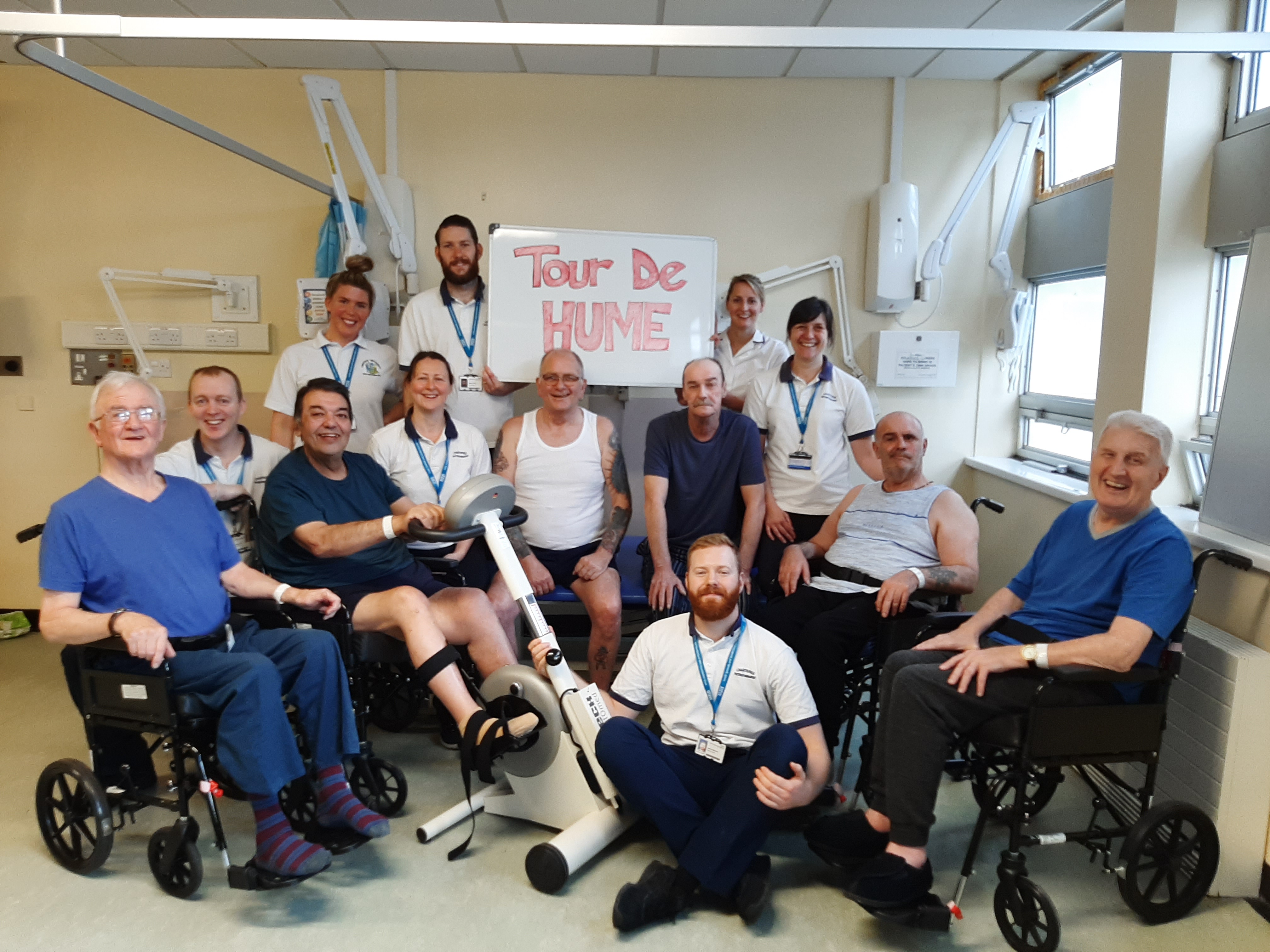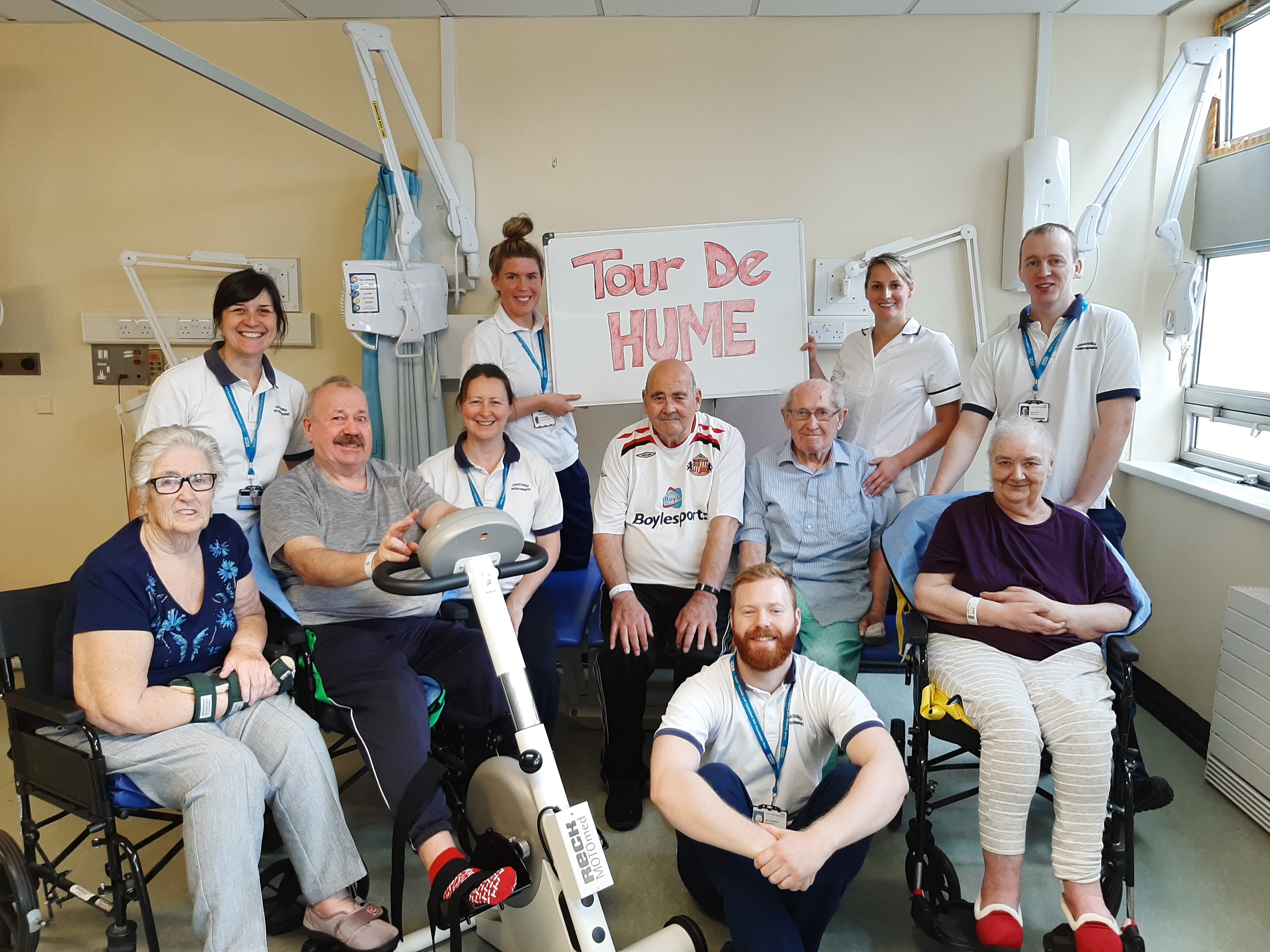 Neuro rehabilitation patients at Sunderland Royal Hospital are taking on a cycling challenge to raise about £6,000 for specialist therapy equipment for the rehabilitation ward.
About 15 patients are cycling 60 miles between them – equivalent to the length of the River Wear – on a device similar to the one they are hoping to help buy through sponsorship from relatives, friends and staff.
Physiotherapist Natasha Carroll explained: "We have the moving therapy equipment on loan for a limited time and it is in constant use as the patients love it and it provides great benefits. Even if patients can't use their legs, as long as they can be positioned in the chair then the machine moves their limbs."
The equipment is specially designed for patients with neurological impairment which can be as a result of many causes, including stroke, head and spinal inquiries, Parkinson's disease and Multiple Sclerosis.
The benefits of the 'MOTOmed' device, which looks like a static bike, include:
Increasing flexibility by loosening up the muscles and ligaments
Building and improving on muscle strength
Loosening up the muscles in the case of sudden spasms.
Improving wellbeing and fitness through regular cardiovascular exercise
Improving circulation
Preventing stiff joints
Building up and maintaining the basic fitness required for walking
To donate please visit their JustGiving page at www.justgiving.com/fundraising/tourdehume
We will post their progress on this page so please visit to see how they are doing.
---