Published on: 26 January 2021
In the UK only 12 per cent of engineers are female, even in the NHS engineering is still a male-dominated industry.
But Katherine Jones is blazing a trail for women as she becomes the first ever female to complete the NHS Biomedical Engineering apprenticeship in the North East.
The 21-year-old from Gateshead joined South Tyneside and Sunderland NHS Foundation Trust aged 17 and is the first woman in the North East to complete this regional apprenticeship programme.
Now, four other female Clinical Engineers in the region are following in her footsteps. Katherine said: "It's a huge privilege to be the first woman to complete this training and to be named the first female Clinical Engineering Apprentice in the North East. It's an amazing job! I'm so happy to be here and show that other girls can come in and do it too."
Katherine, who is based at South Tyneside District Hospital, studied at college where she completed a BTEC and HNC in Electrical and Electronic Engineering, a Performing Engineering Operations qualification, as well as several health and safety courses.
As an apprentice at the Trust Katherine gained critical on-the-job experience whilst building up an impressive bank of knowledge. Although she specialised in infusion systems, she is also qualified to repair and maintain other medical devices including, anaesthetics and life support equipment and maternity and monitoring equipment.
She said: "Every day is different. One day I can be travelling around various community sites carrying out repairs and maintenance on devices like blood pressure machines, thermometers and blood oxygen monitors. The next day I could be in the hospital testing new devices, carrying out servicing or repairs on equipment such as infusion equipment and anaesthetics."
Katherine is following in the footsteps of her Dad, who also works in the NHS having completed the same apprenticeship when he was Katherine's age.
She said: "Clinical Engineering is such a vital part of the NHS. When you think about all of the equipment that is used in hospitals, everything must be checked and verified before it can be used to ensure that there will be no harm to the patient and also help them in their recovery.
"I enjoy working at the Trust, there have been a few small struggles along the way but that comes with being a female in a male-dominated role. This has only helped me to grow my own confidence to be able to explain who I am and what I'm doing."
Since completing the apprenticeship Katherine has developed excellent professional relationships with the Trust's community teams and has been managing their medical device repair and maintenance service.
Mike Cox, Head of Biomedical Engineering at South Tyneside and Sunderland NHS Foundation Trust, said: "Traditionally, Biomedical Engineering has been a male-dominated industry and women have not entered the field in great numbers. We are proud to say that Katherine is blazing a trail for others and there are four women in the region who have followed in her footsteps and are embarking on the same career path.
"We are exceptionally proud of Katherine and what she has achieved. When she joined us in 2016 she was a shy and anxious young woman. Over the course of her training we have seen great personal growth and the 21-year-old woman we see today is a highly skilled and highly confident engineer who is greatly respected across the Trust. She is an asset to our team."
Ken Bremner, Chief Executive at South Tyneside and Sunderland NHS Foundation Trust, added: "Apprenticeships allow us to attract excellent young people from our local communities and we are committed to nurturing and growing local talent for the benefit of our hospitals and the patients that we treat.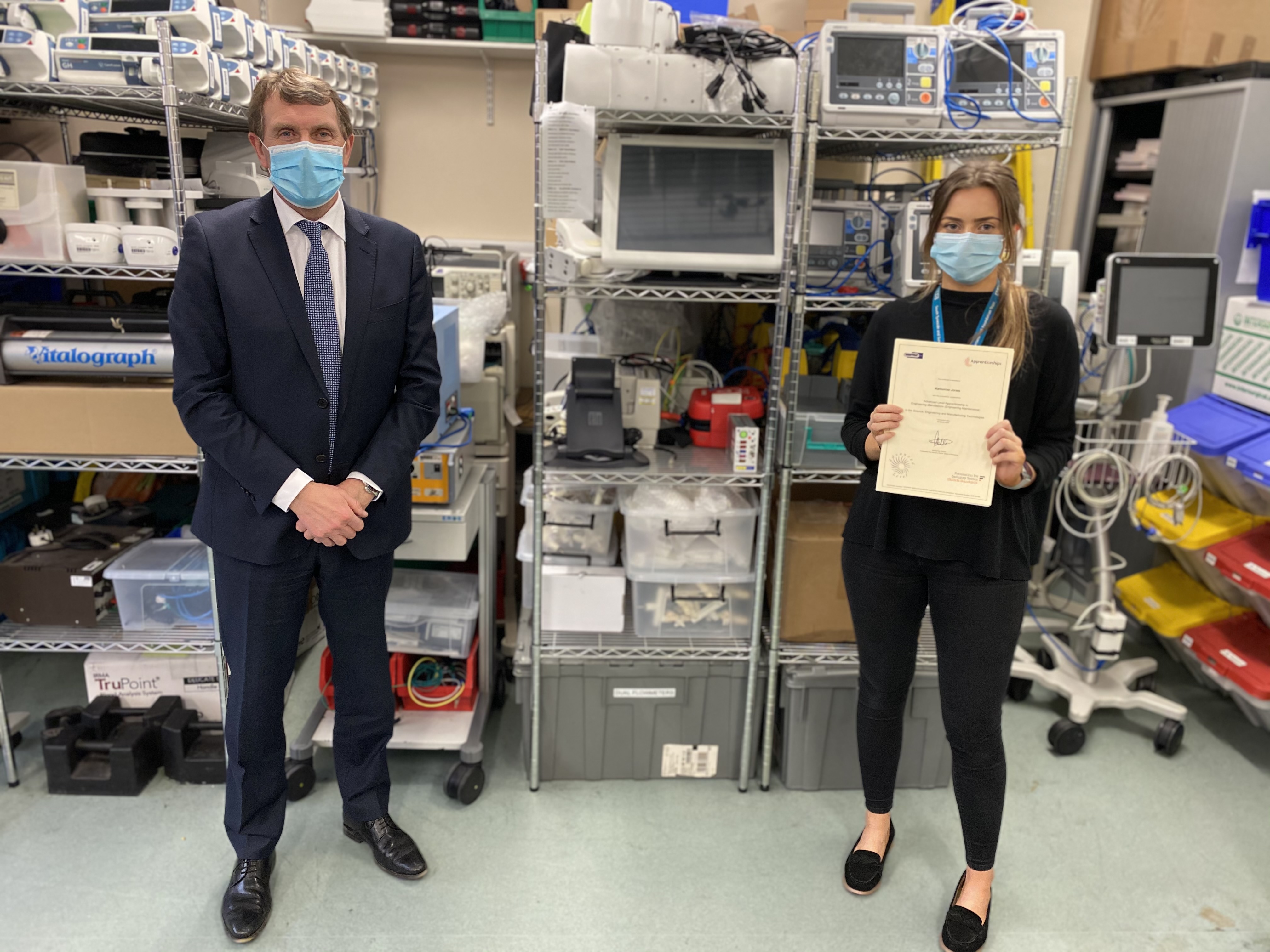 "We are committed to providing equality of opportunity and whilst engineering is still a male-dominated industry, it's fantastic to see women like Katherine leading the way in challenging these stereotypes and breaking down barriers - showing that engineering can be an exciting, rewarding and welcoming industry for women.
"I hope other young women will be encouraged to follow Katherine's example and pursue NHS careers in Healthcare Science which previously they might not have considered."
South Tyneside and Sunderland NHS Foundation Trust currently employs 49 apprentices in a range of areas including; Pharmacy, Payroll and Finance, Business Administration and Healthcare Support. The majority of the Trust's apprentices go on have successful careers in the NHS with many gaining full-time employment within the Trust.
To find out more about apprenticeships with South Tyneside and Sunderland NHS Foundation Trust in a wide range of areas, including healthcare, administration, IT, accountancy and pharmacy, as well as estates, visit: https://www.stsft.nhs.uk/services/apprenticeships