Published on: 24 March 2020
Endoscopy services at South Tyneside and Sunderland NHS Foundation Trust have once again been given the official seal of approval for high quality.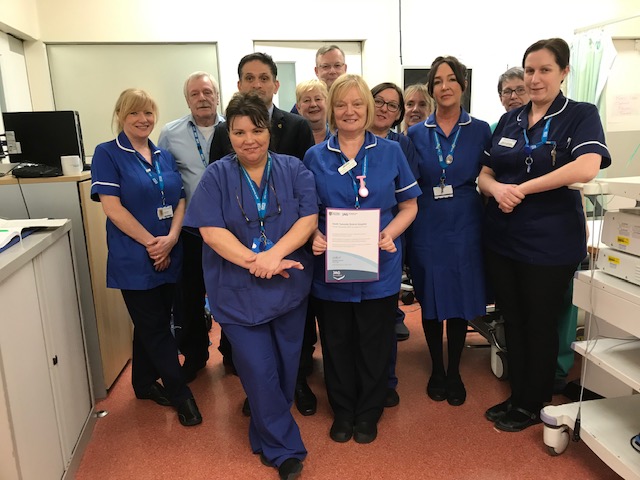 The endoscopy units at South Tyneside District Hospital and Sunderland Royal Hospital have both been reaccredited as centres of excellence under the Royal College of Physicians' JAG (Joint Advisory Group on Gastrointestinal Endoscopy) programme.
Accredited services submit evidence annually to demonstrate that they are continuing to meet the standards set for gastrointestinal endoscopy and every five years have to undergo a rigorous on-site assessment by the external JAG team. The South Tyneside unit has just had its successful five-yearly assessment, meaning that it has been accredited for the last 15 years. The Sunderland unit's annual submission was also accepted.
The standards relate to:
Clinical quality - the service's role in safe and effective diagnosis, treatment and ongoing management
Patient experience - providing efficient and patient-centred care for all patients, which includes reviewing waiting times, facilities and the environment
Workforce - ensuring effective training and support for staff, including the recruitment, retention and continued professional development of team members
Training - the support and development of trainee endoscopists, including appraisal and competencies
Recently, £275,000 was invested in modernising the endoscopy day ward at South Tyneside District Hospital to improve the experience for patients and ensure continued excellent service provision in the future. The refurbishment included additional toilets and improved changing, reception and waiting facilities – all contributing to ensuring privacy and dignity for patients.
Clinical Director Dr Dashan Boregowda, said: "JAG accreditation is only awarded to high quality, patient-centred services so we are delighted that endoscopy in South Tyneside and Sunderland continues to meet national standards and our patients can remain confident that they are receiving the very best care. It is a tribute to the whole team - from consultants, registrars, and nurses to support staff - who are all dedicated to continuous quality improvement and service development through identifying areas of best practice and areas for change."