Published on: 24 January 2020
The midwifery-led birthing centre at South Tyneside District Hospital is celebrating the birth of its 100th baby since opening in the summer.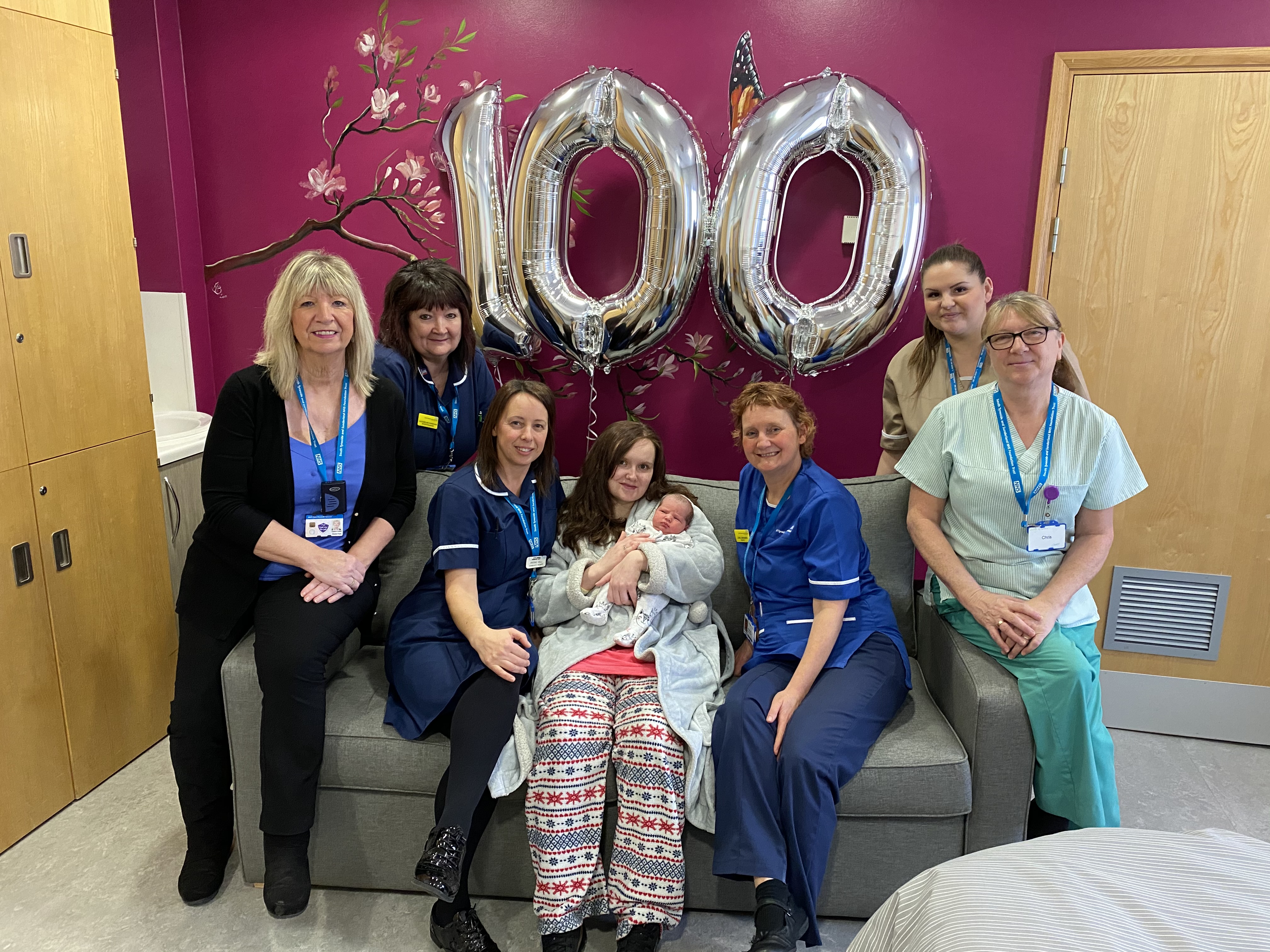 Renesmae Jane Bain-Carr was born at 4:40am on 24th January, weighing 6lb 15oz. She is the second child for Shannon Bain, 22, of Boldon Colliery and her partner, Leon Carr, 23, and big sister to Crystal-Louise Bain-Carr, 19 months.
"The midwives here are very supportive and they kept me very calm. The atmosphere is really nice, its relaxing and you feel more at home and comfortable. I would definitely come back if I had another baby.
"I really wasn't expecting to be told that Renesmae is the 100th baby to be delivered here - it was a bit of a shock! I'm just overwhelmed."
Jacqui Ramshaw, midwife and manager of the centre, said: "Delivering our 100th baby is a real milestone for the midwifery-led birthing centre. Congratulations to Shannon and Leon on the birth of their baby girl.
"Despite the fact we have only been open for six months, we are seeing a lot of interest from expectant mams, especially when they come in and see the centre and speak to our midwives or hear about the experiences from other mams. The feedback we're getting from our new parents is overwhelmingly positive. In fact in a recent patient survey we found that 100% of women were satisfied with the care they received at the centre. They say they love the relaxing environment and appreciate the support and care of our midwifery team. Water births are proving particularly popular, with our number currently running at around three times the national average."
The proud parents were presented with a letter from the Trust's Chief Executive, Ken Bremner congratulating them on the birth of their daughter and a commemorative hand blown glass bauble as a keepsake of the milestone birth.
The opening of the midwifery-led birthing centre in August has meant more choice on where to give birth for local women across South Tyneside and Sunderland.

Women who have a low-risk pregnancy which is problem-free have the option of:
Giving birth at the midwifery-led birthing centre at South Tyneside District Hospital
Giving birth under midwifery-led care at Sunderland Royal Hospital, which is within the consultant-led maternity unit
Giving birth at another maternity unit of their choice in the region
Giving birth at home
Women who have a high risk pregnancy, for example, if they are expecting twins, if their baby is in the breech position, or if they have experienced complications in this or a previous pregnancy, are advised to give birth in the consultant-led unit at Sunderland Royal Hospital. The majority of all antenatal and postnatal care continues to be provided locally.
Sheila Ford, Head of Midwifery for South Tyneside and Sunderland NHS Foundation Trust, said: "We are very proud of our maternity team at Sunderland Royal Hospital and South Tyneside District Hospital who provide high quality, compassionate care for women and their families. Our aim in opening the new midwifery-led birthing centre was to build upon a much valued service by offering more choice on where to give birth."
To arrange a visit to the midwifery-led birthing centre at South Tyneside District Hospital, contact 0191 4041033, or you can drop in, although it's best to ring this number first to check how busy it is.