Published on: 24 August 2023
A Ukrainian doctor and his friends have helped take former ambulances and other vehicles from the North East to help rescue injured military fighting in his home country.
Anatoliy Telpov, who works in the Emergency Department of South Tyneside District Hospital, was a key member of a group who drove the fleet close to the border of Ukraine.
The efforts by Dr Telpov, who is from Ivano-Frankivsk, a city in the west of the country, follows previous work with NHS colleague Kelley Storey. She works for Northumbria Healthcare NHS Foundation Trust and a private ambulance company.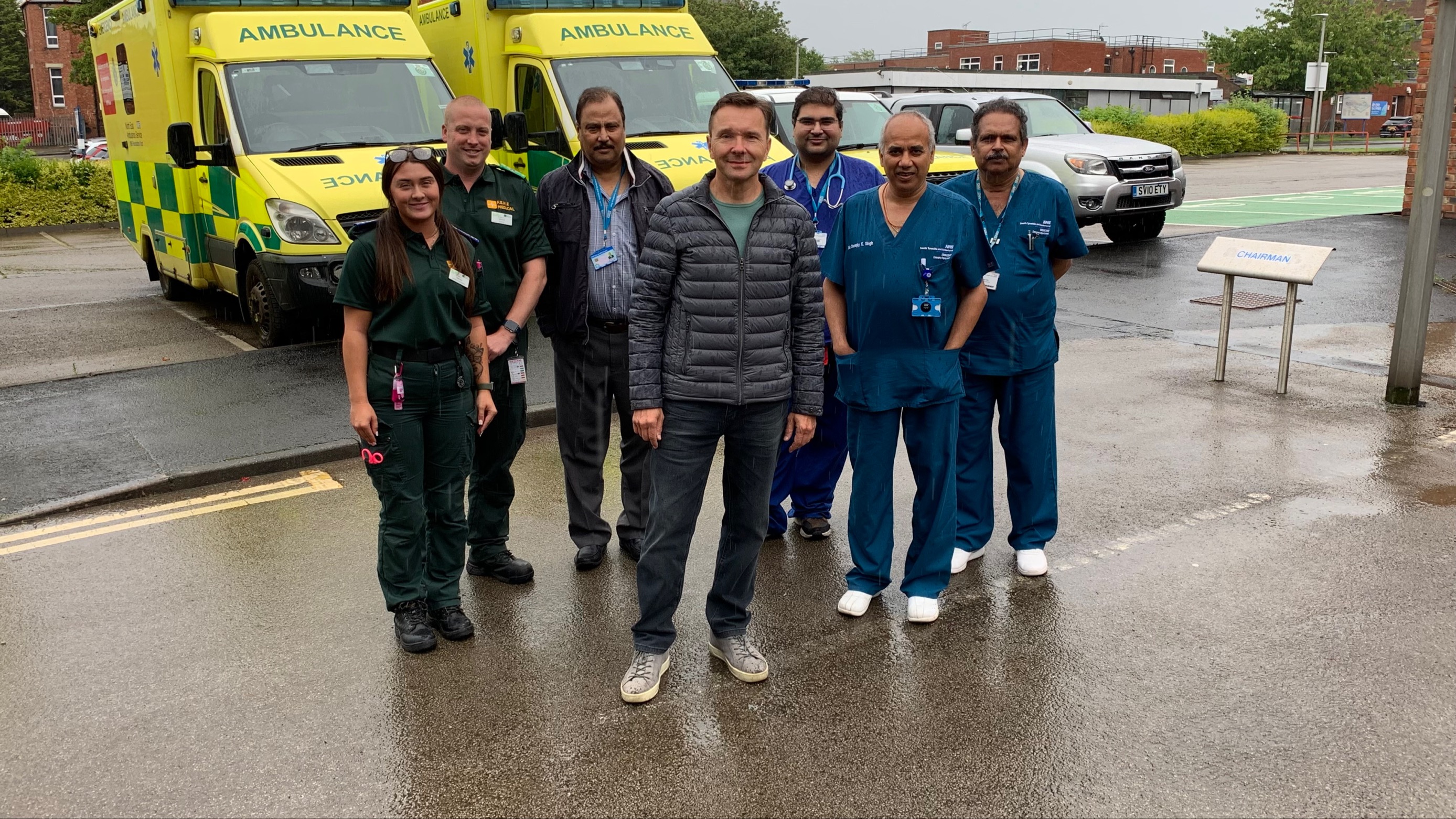 The vehicles taken to Ukraine pictured with FNSE Medial staff and Emergency Department team members with Dr Anatoliy Telpov, centre.

They have previously sent an ambulance to the country, which was bought with funds pledged by supporters.
Now they have sent more aid to Ukraine thanks to support from North East Ambulance Service (NEAS) and an independent ambulance company, FSNE Medical.
NEAS donated two decommissioned ambulances and a Land Rover – the third such donation of decommissioned vehicles and equipment to be donated by the service over the last year.
FSNE Medical donated a 4x4 and provided funds to pay for fuel and food for the journey.
With the help of Harry Clark, who works for NEAS, and FSNE Medical team members James Redshaw, Katharine Sayer and Stephen Aitken, all four vehicles were taken across to mainland Europe and then to the Polish border to be handed to Ukrainian military representatives.
Simarnam Singh, who also works as a doctor alongside Dr Telpov at South Tyneside and Sunderland NHS
Foundation Trust, and his friends and family from the Sikh Temple GKMRHK in South Shields, sponsored ferry travel, hotels and return flights for the team.
The vehicles have since undergone checks in Ukraine and have been resprayed. They will now be helping to transport casualties from the frontline to where they can be treated.
The ambulances after their respray.
The doctor and a team of friends and supporters he works with, are now seeking out more 4x4 vehicles and quadbikes to send over in the next wave of donations.
They hope to raise more funds and gather together as many donated vehicles as possible to send over to Ukraine.
He said:
"These vehicles have gone to help get people to hospitals from the frontline and we know they have gone to help in the South East of the country. They will be helping every day.

"The journey to take them over to Ukraine went very well. The team was absolutely marvellous and dedicated and they faced long days and very hot conditions with no air conditioning.

"All the vehicles got their final checks and now they're out there helping. We got some great feedback from the military, saying they were a help."
Graham Tebbutt, managing director of NEASUS, the subsidiary fleet arm of North East Ambulance Service, said:
"It's great to know that even after they've finished serving the North East public, our vehicles are able to continue helping patients in need.

"My team have been really proud of being able to play a small role in this work, and I'd like to thank them for their support in ensuring the vehicles were capable of completing the journey."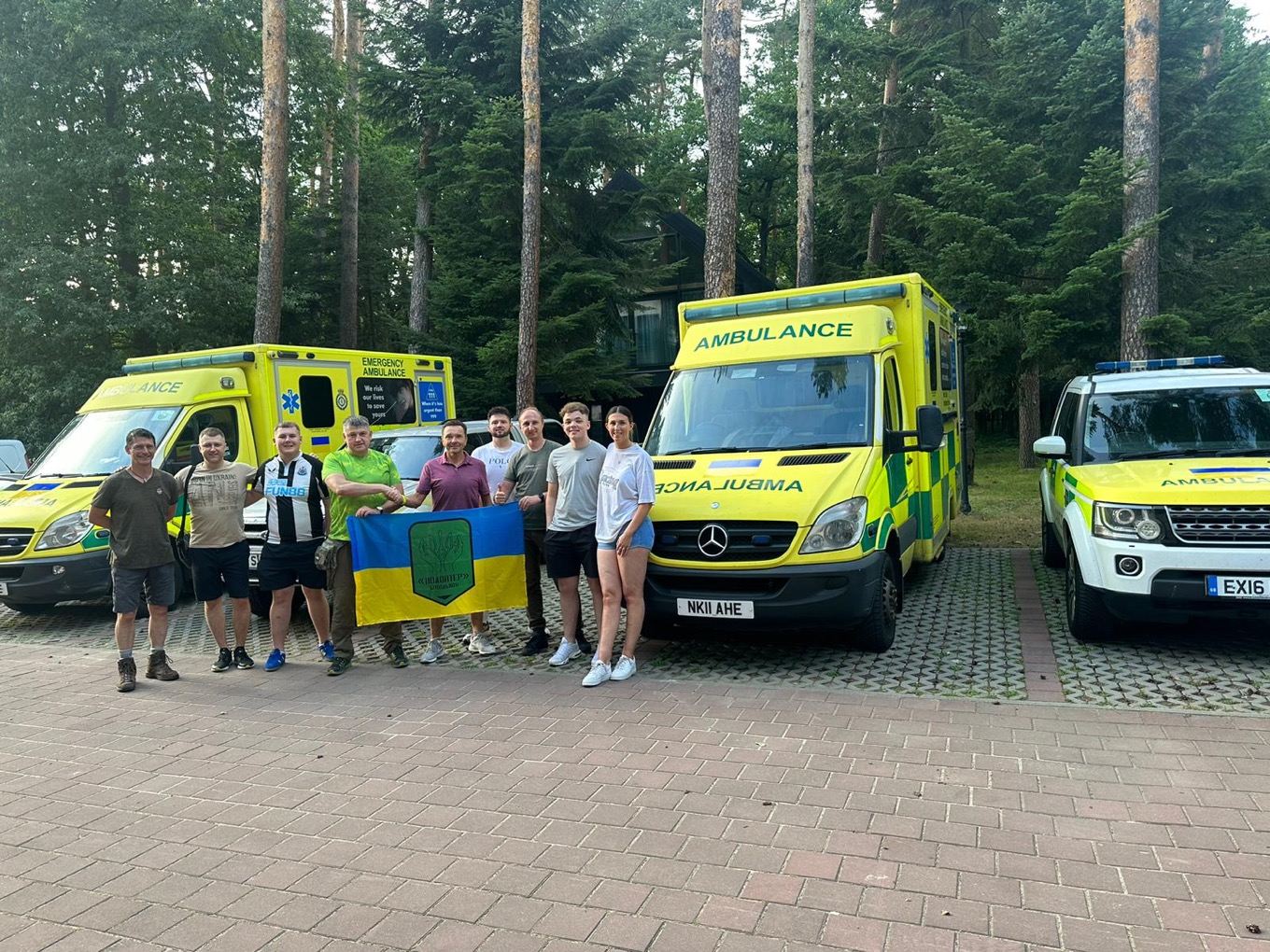 The volunteers met friends along the way on their journey.
Dr Telpov added:
"A special thank you must go to Kelley for her help and time with this project.

"Graham has also been a huge support, without the generous gift of the ambulances and supplies it would not have been possible.

"I would like to say a thank you to Greg Douglas and Melissa Douglas, the directors of FSNE Medical, and their team, as well as my colleague Sim for everything they have done.

"Now we are working to source as many 4x4s and quadbikes as we can, as they can handle the terrain and can be used to get people who need help out fast."
Anyone interested in donating funds can donate via the GoFundMe campaign https://gofund.me/6f85e7e2 and contact Dr Telpov through the page.