Published on: 17 May 2023
A hospital hub is open once again for inpatients after it had to close its door due to the pandemic.
The Alexandra Centre in Sunderland Royal Hospital had to halt to its session when restrictions were brought in to try and keep everyone safe during the COVID-19 outbreak.
Instead, the team headed out onto the wards, working with those with dementia and delirium to keep them active mentally and physically.
Now, as Dementia Action Week runs (May 15 to 21), the centre is officially open again, welcoming in patients from the hospital's wards.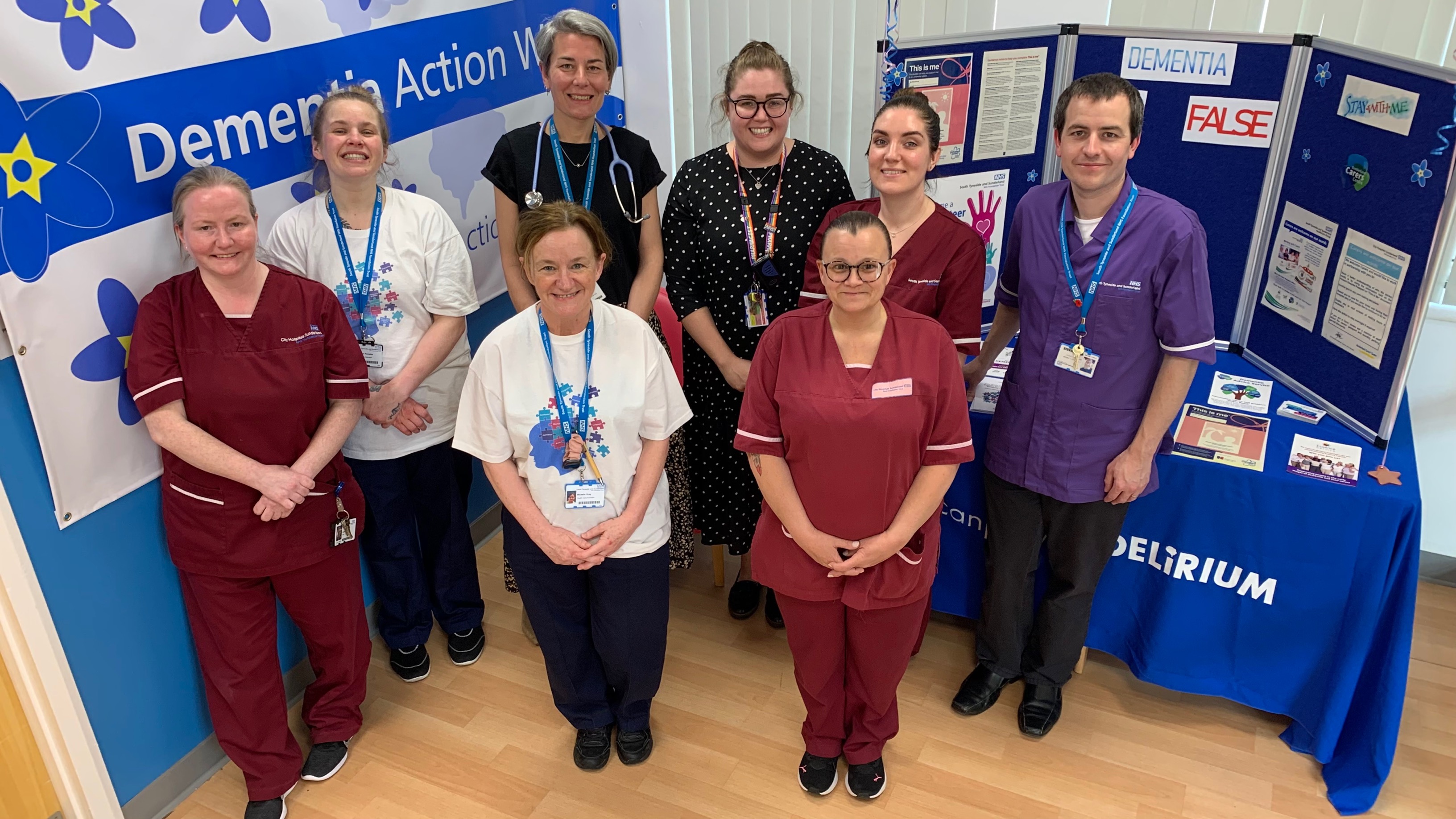 The Delirium and Dementia Outreach Team (DDOT) team offers therapy in the form of games and quizzes.
Its Hospital Elder Life Programme Assistants prompt people to talk about their memories and reminisce with each other.
The room has displays of items patients will remember from their younger days, such as food packaging, books, photos and items linked to Sunderland's history, such as its pits, shops and factories.
The visits also help break up patients' days on the ward and a chance to socialise with others.
While there, the team also lead activities to improve their mobility, especially their upper body.
Patients and staff from the Alexandra Centre play a game of hoopla to keep active.
Videos are also available on the patient television system across South Tyneside and Sunderland NHS Foundation Trust, so they can follow them from their beds or chairs.
The sessions at the centre are held around meal times, so the visitors can be encouraged to eat and drink, as this can often be an issue for those with dementia.
The Alexandra Centre's relaunch comes as part of a wide programme of events to mark the week. This year it aims to encourage people and their families to seek a timely diagnosis and avoid reaching a crisis point.
Other events will help colleagues learn more about how they can support patients and their loved ones, with the Patient Experience Team involved in the awareness drive.
It includes information stands, quizzes, a webinar and workshops, with a cake sale to raise funds to help patients.
Claire Boylan is an Elder Life Specialist Practitioner and plans the events as part of the team, which also includes a specialist pharmacist.
She said:
"It is really good for the patients that the centre is open again.

"While the team has done a fantastic job out on the wards, what we have set up in the Alexandra Centre is tailored for these sessions.

"We're always looking to deliver a response faster and coming in offers them such a positive experience too.

"Some of our patients spend quite a bit of time in our hospital. It gives them a chance to be somewhere different, helps break up their days and helps stimulate them, so we get them thinking and moving, which is so important to their care, recovery and rehabilitation.

"We hold them over meal times, so it encourages them to eat and hydrate too.

"What we have found, particularly after lockdown, is that patients and their families haven't been able to follow up their concerns and as a result of the pandemic, it's been longer before they've been able to get help.

"We are seeing a lot more patients come through because of it.

"We would say to anyone who is worried about dementia to ask for help as soon as they can, it can make such a difference.

"A timely diagnosis can help make important decisions about treatment, support and care, which can help so much in the long term."
Details about what the Trust does to support its patients with dementia and their families, as well as what help is available in the community, can be found by clicking here.