Published on: 2 November 2023
The specialist team which heads up the North East's only specialist Emergency Department for eye care has united with fire chiefs to warn of the dangers of fireworks this autumn.
It comes in the wake of an incident where a teenage boy was struck in the eye on Wearside.
The incident follows more than a dozen emergencies dealt with by South Tyneside and Sunderland NHS Foundation Trust in recent years.
It runs Sunderland Eye Infirmary, which has a 24/7 Emergency Department for patients who need urgent care for a serious eye injury or condition.
The hospital has teamed up with Tyne and Wear Fire and Rescue Service (TWFRS) to back its Darker Nights campaign. It warns about the dangers of fireworks and the devastating injuries they can cause.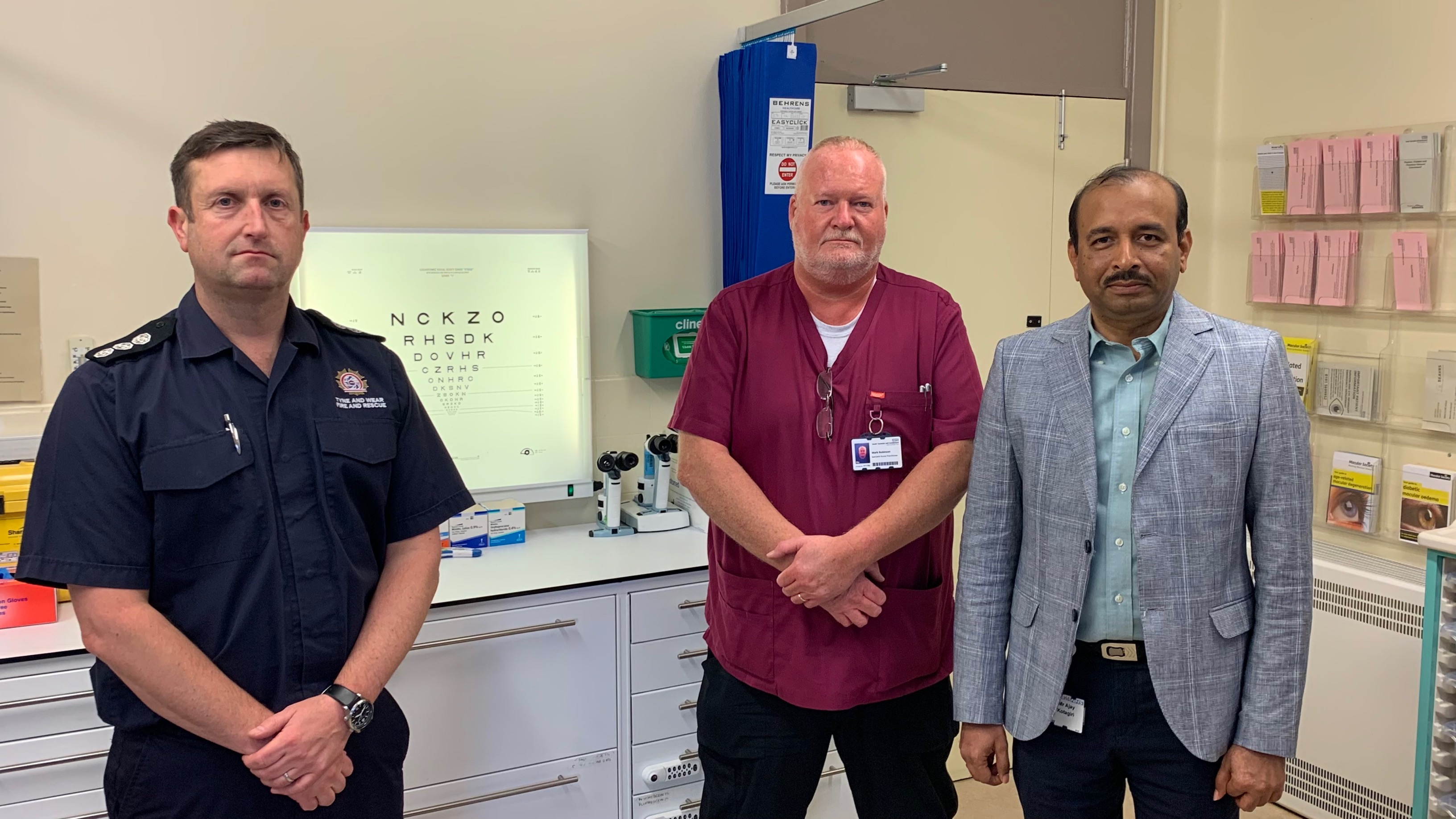 Lee Bell, Station Manager of Sunderland Central Community Fire Station, Specialist Nurse Practitioner Mark Robinson and Ajay Kotagiri, Clinical Director of Sunderland Eye Infirmary, have united to warn of the dangers of fireworks.
It is hoped the message will help save life, limb and sight.
The teenager, who wishes to remain anonymous, was first treated by the hospital's emergency team in Sunderland following the incident late last month.
It happened while he was out with friends and another group set off a firework nearby.
It struck him in the eye at close range, causing a trauma injury. He is now being cared for by specialists at the hospital as they support his recovery and ongoing treatment in the hope of saving his full sight.
His family have asked his details remain private, but have backed the NHS and fire service safety call.
It is hoped people heed advice to attend organised displays around November 5 and Diwali, the Hindu festival of lights, which is on Sunday, November 12.
To ensure people stay safe this Bonfire Night TWFRS have compiled all of the organised and third party displays taking place across Tyne and Wear, with a link available below.
Ajay Kotagiri is the Clinical Director and consultant at Sunderland Eye Infirmary – the region's only dedicated specialist eye hospital.
He said:
"Fireworks are a real danger. They're powerful explosives and can cause catastrophic injuries.

"Here at our Emergency Department, and the other A&Es our Trust oversees, we have seen that lasting damage first hand.

"Our eye hospital regularly sees a spike in incidents during this time of celebration and it really is avoidable.

"Fireworks can cause burns and bleeding. These can distort someone's vision and in the most serious cases, lead to a loss of sight. We know our A&E teams are called on to treat injuries to other parts of the body.

"These can have a devastating and lasting impact on someone's future. Serious injuries also often mean a lifetime of treatment.

"They might need surgery, which in the case of eye injuries could involve grafts or the donation of corneas.

"While I know our hospitals do a fantastic job to treat our patients, there is no getting away from the fact such injuries are difficult to overcome.

"All of this can be avoided by keeping safe. The best way to do this is to go to an organised display, don't be tempted to let off your own, and stand back and enjoy the event.

"If you really do want to celebrate yourself, please keep a safe distance from explosive fireworks and keep children safe, and protective glasses are a good idea too."
Station Manager for Sunderland Central Community Fire Station, Lee Bell, said:
"Fireworks are no joke and they should always be taken extremely seriously.

"We would encourage everyone to attend organised displays that are professionally staged, to avoid people getting seriously injured.

"The Service also advises parents and guardians to speak to their children about the dangers of playing with fireworks, although this incident is tragic, it could have been significantly worse.

"We aren't here to ruin people's family fun but we do want everyone to stay safe.

Sunderland Eye Infirmary's Emergency Department now accepts patients via a phone triage service. People are asked to call 0191 569 9952 to explain their injury.
This means the team can give immediate advice and prepare for the patient's arrival at the hospital if they need to be seen.
The team are also able to offer self-care support over the phone, if a visit is not needed, and can also help other health professionals via the dedicated line.
To ensure people stay safe this Bonfire Night TWFRS have compiled all of the organised and third party displays taking place across Tyne and Wear.
Details can be found here.

Please stay safe this Bonfire Night.

Please note: TWFRS are not endorsing these events but purely informing residents they are taking place.