Published on: 1 November 2022
Life-saving scans have been launched through a new service at Sunderland Royal Hospital which will give cardiologists vital information they need to treat a range of heart conditions.
South Tyneside and Sunderland NHS Foundation Trust (STSFT) has introduced a new cardiovascular Magnetic Resonance Imaging (MRI) service for the first time today, Tuesday, November 1.
In another first for the Trust, it means that patients from the local area who previously had to travel to Northumberland or Teesside, now have access to specialist heart care right on their doorstep. For a number of conditions, a specialist cardiac MRI is the only way to reach a diagnosis.
Cardiovascular (heart) disease is still the biggest single contributor to reduced life expectancy and premature death for people living in South Tyneside and Sunderland. The launch of a new specialist cardiac MRI service is part of the Trust's ambition to take action to reduce health inequalities in the local area.
Consultant Cardiologist Dr Alykhan Bandali, joined STSFT almost two years ago and has led the development of the new scanning service. He brings a wealth of experience in cardiac MRI and is among a series of new recruits in the Trust's cardiac team which provides a range of highly specialist heart procedures including primary percutaneous coronary intervention (PCI) – an emergency procedure to clear blockages in the heart, as well as planned pacemaker implantation.
Dr Bandali said:
"Addressing health inequalities in our area is essential for us and introducing this new cardiac MRI service is a very important part of it. Those we care for previously had to go all the way to Ashington or to Middlesbrough and also had to deal with the cost of getting there.

"At a time when they are feeling anxious or unwell, this can add to the stress. Now they will be able to have their scans much closer to home, in a place which is familiar to them. This will not only help those who cannot travel, but it also means all of their treatment will be here with us."
He added the information the scans can give him and his colleagues will help build a picture of what is happening in someone's cardiovascular system in real time and a wealth of information which can speed up both diagnosis and treatment.
"The cardiac MRI scan allows us to look at the heart as it works and gives us information which can help build a picture of what's going on. It will help us make a diagnosis we would otherwise struggle to reach without delaying treatment and sending a patient somewhere else for a scan first. I have no doubt that this new service based right here in Sunderland will help us save lives by making sure people get the treatment they need quicker."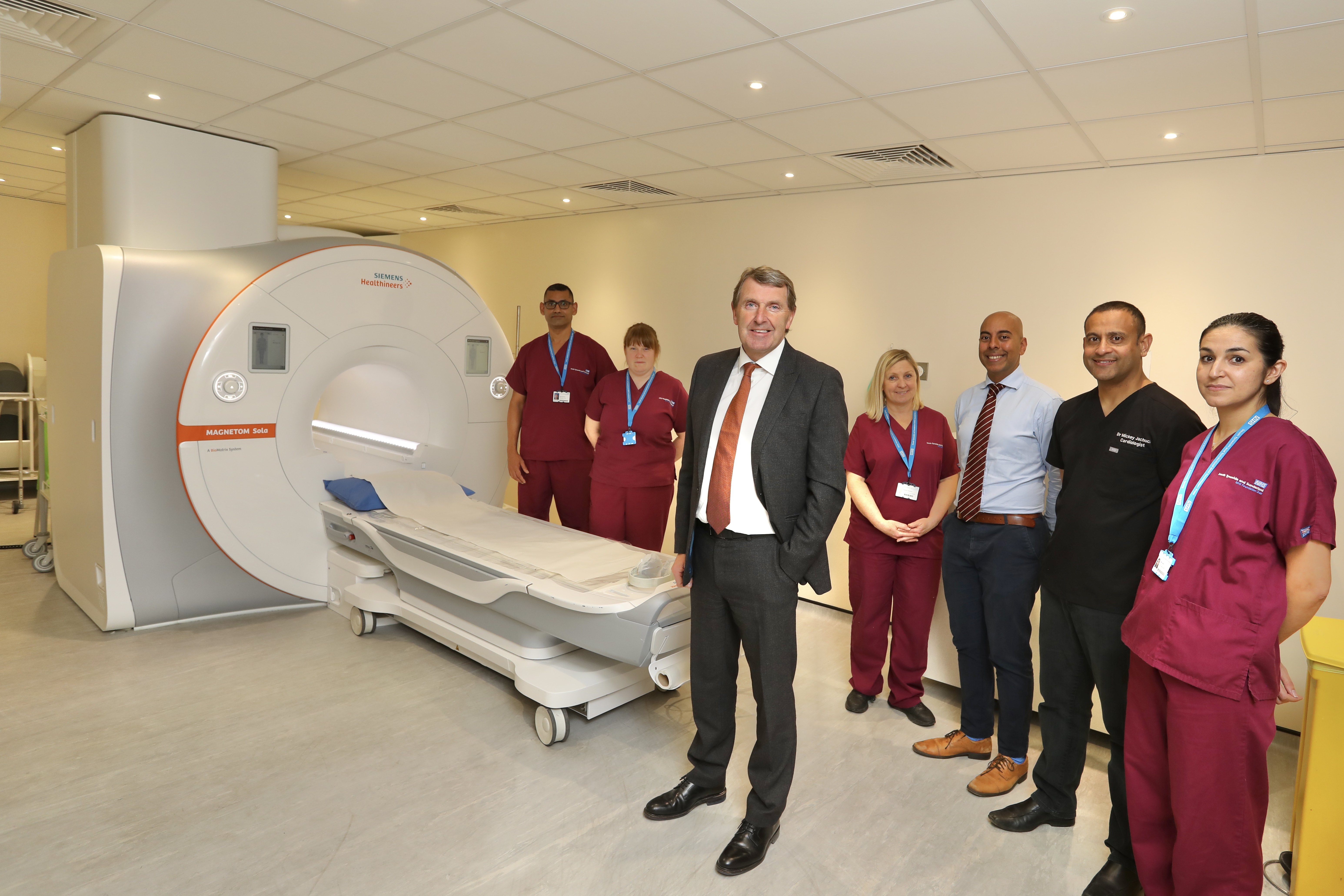 Chief Executive of South Tyneside and Sunderland NHS Foundation Trust Ken Bremner MBE with members of the radiography and cardiology team leading the new service.
Cardiac MRI scans show if the heart is working properly and can also help diagnose some cancers. They can also allow doctors to use stress tests to look at the impact on a patient's heart through controlled conditions.
During the cardiac MRI scan, patients will be talked through a series of breathing exercises as the scanner helps build a precise picture of their heart. The team leading the service in Sunderland is also looking at offering people hypnotherapy to help keep them calm and control their heart rate, improving the quality of images taken. Patients are also able to listen to music of their choice and take advantage of cooling equipment to help them keep comfortable.
Among the first patients to have a cardiac MRI at the Trust was retired firefighter Bob Dove, 74, from Sunderland. He underwent the check as part of investigations following two incidents where he fainted.
The specialist heart team in Sunderland hope to establish whether Bob fainted because of his blood pressure medication, which has since been changed, or if he has an abnormal heart rhythm - arrhythmia – which can be treated with a pacemaker.
Bob said:
"Some people suffer from dizziness before they collapse, but I didn't, I just blacked out. It was scary. The scan is going to prove what's going on, so I'm happy to have it. I'll be able to find out whether or not I need this operation if it is arrhythmia and that should be able to stop it.

"Obviously not having to travel is a help now this is done in Sunderland, it's here on our doorstep, because otherwise I would have had to go to Ashington or Middlesbrough."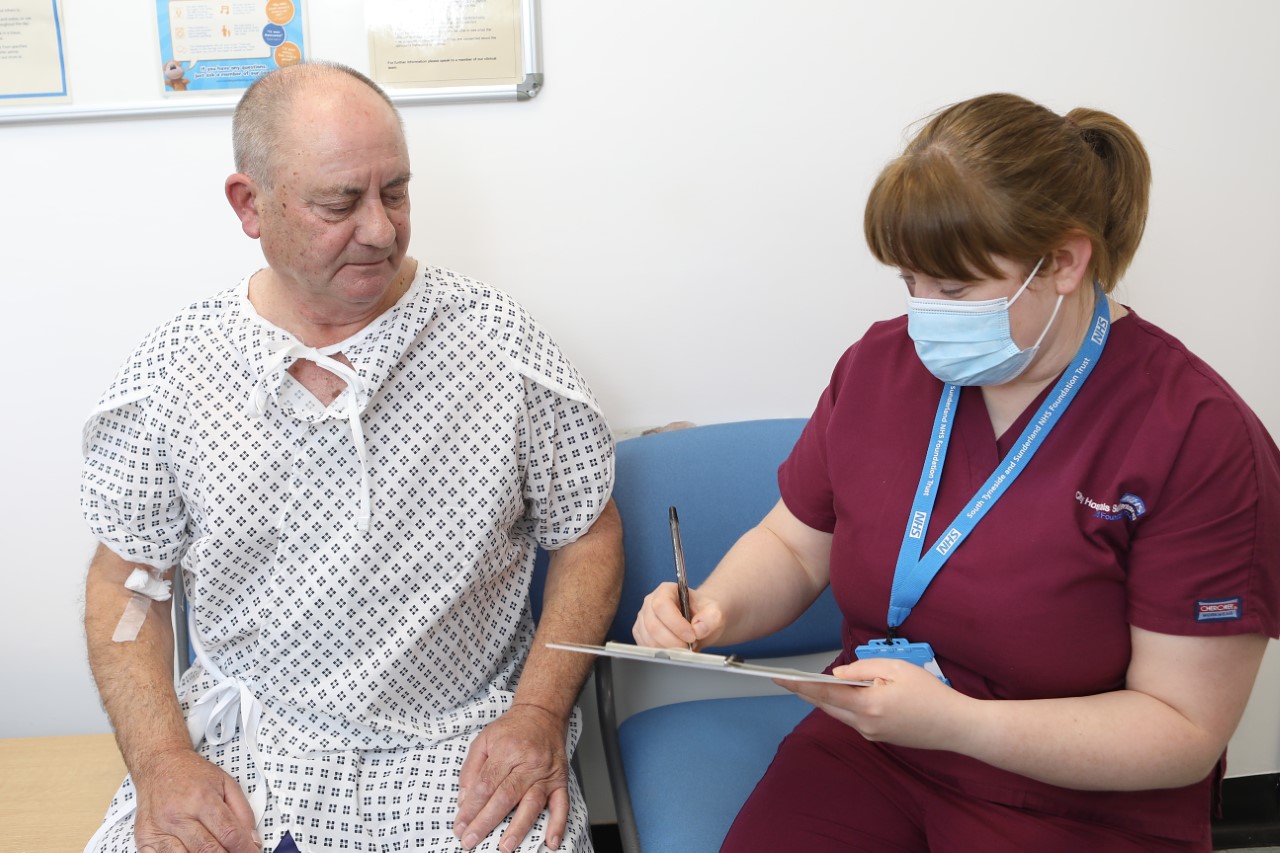 Patient Bob Dove goes through his pre-MRI scan check with MRI Radiographer Claire Watson.
The new cardiac MRI service will initially run one day a week at Sunderland Royal Hospital with plans to expand the service into South Tyneside District Hospital. It marks another important milestone for STSFT after it launched a new PET-CT scanning service at South Tyneside District Hospital for the first time earlier this year.