Published on: 27 April 2023
A midwife who has launched a ground breaking care service for families following the loss of a baby has become an award winner for her work.
Charlotte Mutton was appointed in 2021 as the first Specialist Bereavement Lead Midwife at South Tyneside and Sunderland NHS Foundation Trust.
She brings more than decade of experience to the role and was the first such specialist in the region.
She has been welcomed as part of wider work to strengthen its Maternity team and develop the care it offers through ongoing investments into the service.
Charlotte Mutton pictured with Matron Andrea Tweddell and Head of Midwifery Dawn Edmundson at the Marioposa Awards Ceremony.
Since she began in her role, Charlotte has set up Forever Cherished, a service which offers specialist counselling and support to families from the point of diagnosis to at least eight months after their loss.
She has helped train colleagues so they too are better prepared to support parents and their loved ones. She also supports them to help themselves and each other through the experience of losing a baby they have cared for.
Charlotte has developed close links with organisations such as the local Maternity Voices Partnership, the Sunderland-based charity 4Louis as well as regional and national networks so families can feedback and share their experiences.
This is particularly important in supporting families who may later come back into the unit with a future pregnancy.
Charlotte's work has now won her recognition through the Marioposa Trust's awards, where she was presented with the Bereavement Midwife of the Year 2022 title after she was put forward by those who have experienced her help.
The awards are for midwives, nurses, doctors and community members who have gone above and beyond in the care and support that they have provided for people who have experienced baby loss.
Charlotte's award was presented a ceremony held in London. She was accompanied by Head of Midwifery, Dawn Edmundson and Matron, Andrea Tweddell. She also brought along her mum, Alison and sister Emily.
Charlotte Mutton with her mum Alison and sister Emily at the Marioposa Trust Awards.
To add to the accolades, Charlotte also won the Innovation Champion category in this year's Bright Ideas in Health Awards, run by The Academic Health Science Network for the North East and North Cumbria (AHSN NENC).
Charlotte said:
"It's an honour and a privilege to receive the National Bereavement Midwife of the Year award.

"No family hopes to meet a bereavement midwife, however, I'm extremely passionate about this service and getting it right for the family and for the staff involved.

"The loss of a pregnancy, a baby, a child, and those hopes, dreams and milestones is something that no family should ever have to experience but it's an honour to share their individual journey.

"It is comforting to know we're having a positive impact at what is the most immeasurably difficult time.

"It really means the world to know that we are getting it right, you only have one opportunity to do so. For me, this is a vocation and a role I hold such gratitude for.

"I feel both awards complement each other and demonstrate the impact of the innovation that I have worked so tirelessly to achieve.

"It's a proud moment to recognise families and colleagues are benefitting from Forever Cherished and I would like to thank all of my colleagues for being so receptive to change."
She added her thanks to her colleagues and her family, including her partner and three children for all their support.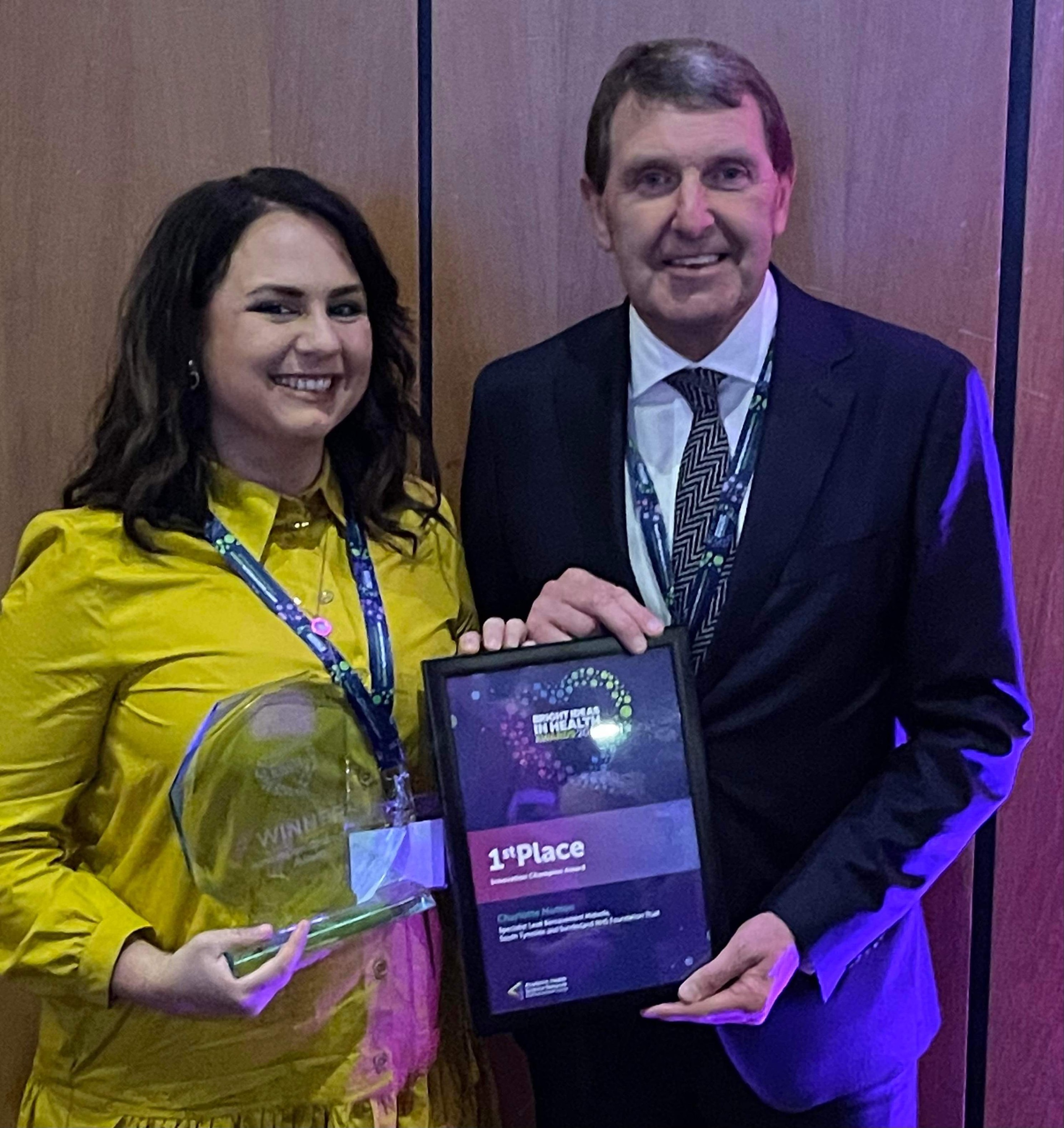 Charlotte Mutton with Trust Chief Executive Ken Bremner MBE with her Bright Ideas in Health Award.
She added:
"Without them, I wouldn't be able to do this work to help our families."
Dawn added:
"We are exceptionally proud of Charlotte for the work she is doing. Seeing her collect her awards was a fantastic moment for her and our team.

"Her work helps us all to help support families who are dealing with a loss and our own maternity family as they support people through that sad time and any future pregnancies too."
Melanie Johnson, the Trust's Executive Director of Nursing, Midwifery and Allied Health Professionals, added:
"What an amazing achievement for Charlotte and our Trust.

"The work we are doing to help families during that terribly difficult time is so vital to our patients.

"We know it has been appreciated greatly and it is something we are continuing to build on."
More details about all the Trust's Maternity services, including extra support with mental health and Charlotte's work, can be found by clicking here.
Charlotte has recorded an episode of the Trust's Our People Podcast about Forever Cherished, which can be found here.