Published on: 20 May 2020
"Out of this world" – that is how Sara and Paul Dunn described their birthing experience at South Tyneside District Hospital's Midwifery-Led Birthing Centre.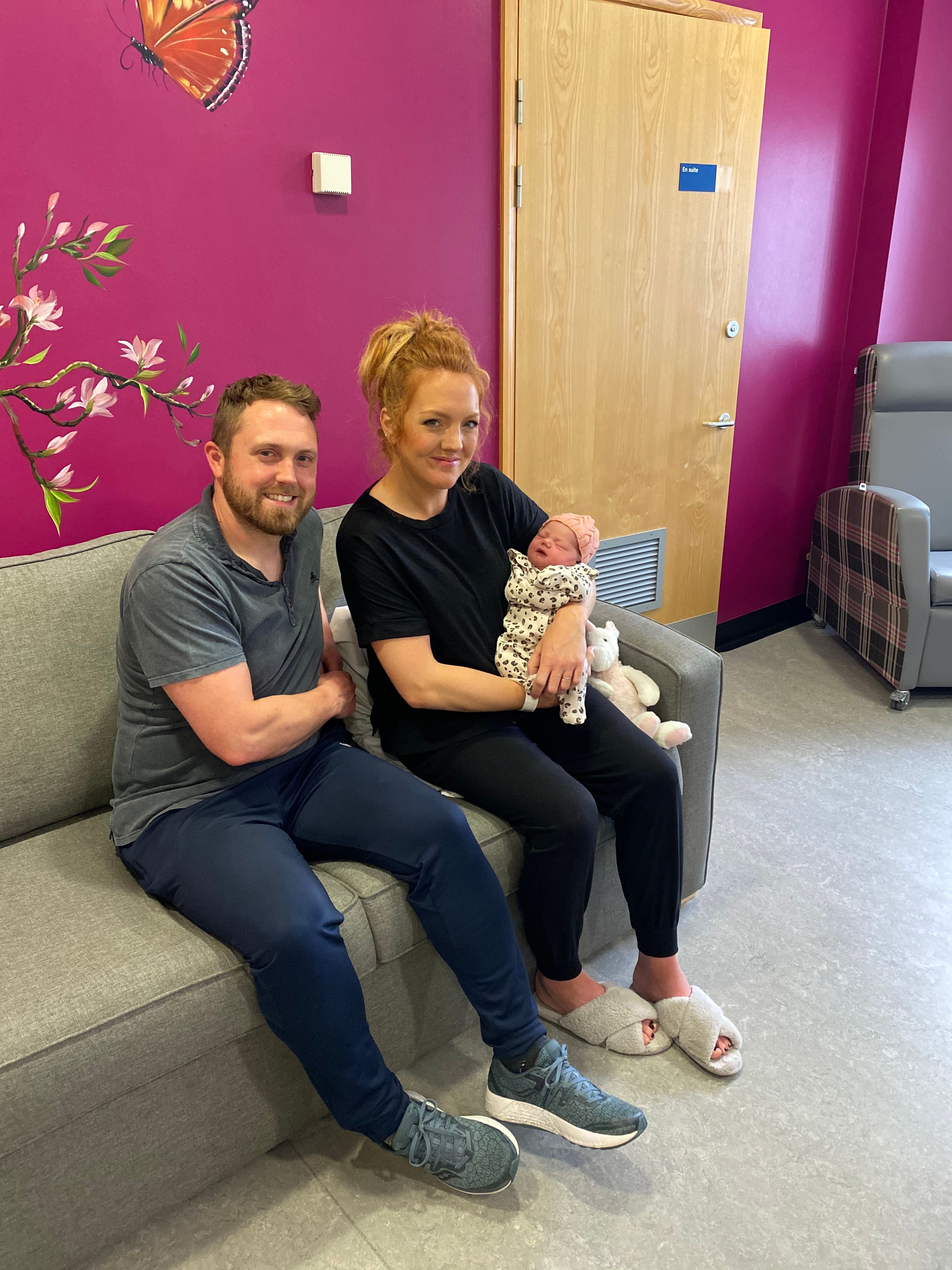 Couple Sara 36, and Paul, 37, from East Herrington chose to deliver their newest bundle of joy at the Midwifery-Led Birthing Centre after a recommendation from their community midwife.
Proud Mum Sara, said: "I really liked the idea of a home from home environment and a more relaxed approach. We discussed it with our community midwife and she recommended the birthing centre."
Their daughter, Nancy Mae, was brought into the world by Midwife Liz Di-Duca on May 15th weighing 7lb 13oz. She is the 180th baby to be born at the birthing centre and is the third child for the couple and little sister to Harriet aged seven and Gabriel aged two.
Describing her experience Sara said: "It was an incredible experience, out of this world actually. The support, the care, the facilities, the staff – it's all been amazing. From the moment you walk in the door it's like a different place, it's so calm and serene; you don't feel like you're in a hospital – it's like a spa."
Having previously delivered in a hospital environment Sara chose to have a water birth for her third delivery.
She said: "I felt a lot calmer than my previous labours, it was all about me and making sure I felt happy and calm and safe. The pool room is beautiful and I loved having the freedom to move around.
"I've never actually laughed through any of my previous births, but from the minute I got here we just chatted and laughed. I felt so at ease, I even laughed though contractions I didn't feel stressed or anxious at any point."
Even amid the Coronavirus pandemic Sara said that she wasn't worried about going into the birthing centre.
She said: "I haven't even felt an awareness of COVID, except from staff wearing PPE. I felt completely safe. In my opinion it hasn't altered the care at all – it's been fantastic. I've had an incredible, life-changing experience."
The Midwifery-Led Birthing Centre at South Tyneside District Hospital opened in August last year to offer more birth choice to women and has welcomed almost 180 babies into the world. Feedback from parents who have used the new facility has been overwhelmingly positive.
The Trust has been working hard to give every reassurance to women across South Tyneside and Sunderland that their midwives are there, in more ways than ever, should anyone have a query – big or small.
Sheila Ford, Head of Midwifery at South Tyneside and Sunderland NHS Foundation Trust, said: "Our teams are doing a fantastic job under extremely challenging circumstances.
"Our midwives have already welcomed 511 new babies into the world and it's a real boost to hear stories like Sara's who really appreciate the care they provide.
"Expectant parents can be absolutely reassured that our Maternity Units at both South Tyneside District Hospital and Sunderland Royal Hospital are very much 'open for business.' We are here and we are ready to look after mums and babies."