Published on: 4 September 2023
A self-cleaning robot which learns from its work sounds like something from a sci-fi movie.
But the BD Rowa Vmax, nicknamed Roberto, is helping staff at Sunderland Royal Hospital dispense medicine in double quick time.
The robot has been installed as part of a £750,000 investment into a new outpatient pharmacy at the hospital. South Tyneside and Sunderland NHS Foundation Trust funded the build, while the robot fit out and equipment were paid for by its subsidiary CHoICE.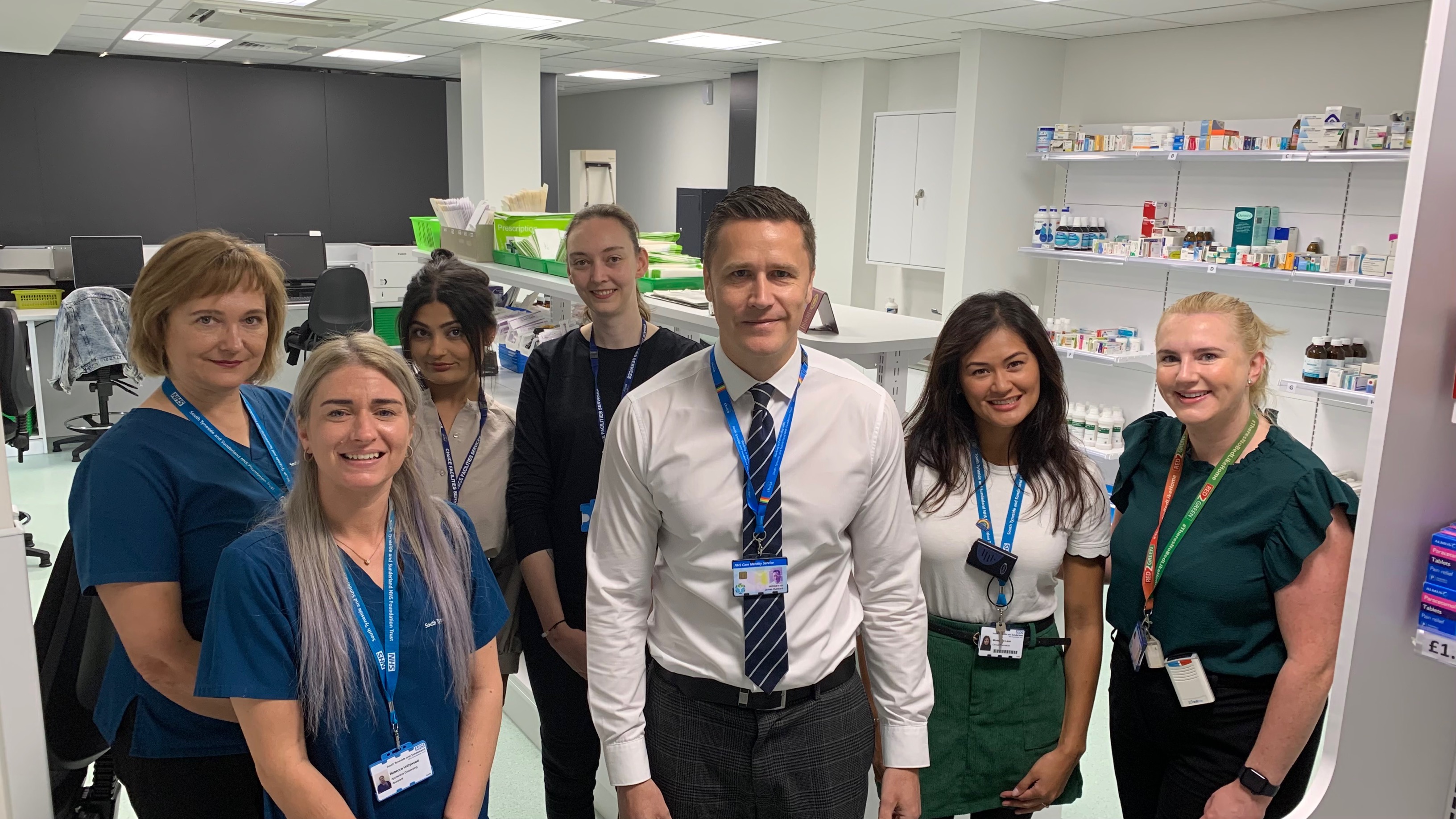 James Hubbard, Superintendent Pharmacist for CHoICE, with Trust and CHoICE staff in the new Outpatient Pharmacy.
The new space is much bigger, allowing the range of medication on hand to be increased.
It follows installation of a prescription vending machine, believed to be the first of its kind in a UK hospital. It allows patients to collect prescription medication 24 hours a day, 7 days a week at the touch of just a few buttons.
The pharmacy team has used robots to store, select, label and deliver medicines for a number of years. It installed a state-of-the-art robot in its new outpatient pharmacy in South Tyneside at the end of 2021. This new technology improves the speed that medicines are dispensed and reduces errors, making the experience for patients much better and faster.
The robot will help the team deliver around 60,000 prescriptions a year, with between 200 and 300 patients helped every day.
The project also provides a much bigger, brighter area for patients to collect their medications, with a new waiting area set up just inside the entrance to Chester Wing.
James Hubbard is Superintendent Pharmacist for CHoICE Pharmacy, which is part of CHoICE Facilities Services, a wholly owned subsidiary of South Tyneside and Sunderland NHS Foundation Trust.
He said:
"The new pharmacy looks absolutely fantastic. It's a much better environment for our patients and staff.

"We've used robots in pharmacy for a while, but this is another level. Technology is advancing what we can do all of the time. This robot has double the capacity, as it has two picking arms and can do twice as much.

"We need to keep investing in innovation so we can continue to provide the best service for our patients now and in the future."
Medicines are tipped onto a conveyor belt and pulled into the robot. The picking arms then fill the shelves – which are set up like a mini warehouse - saving staff hours and freeing them up to advise patients and carry out other tasks.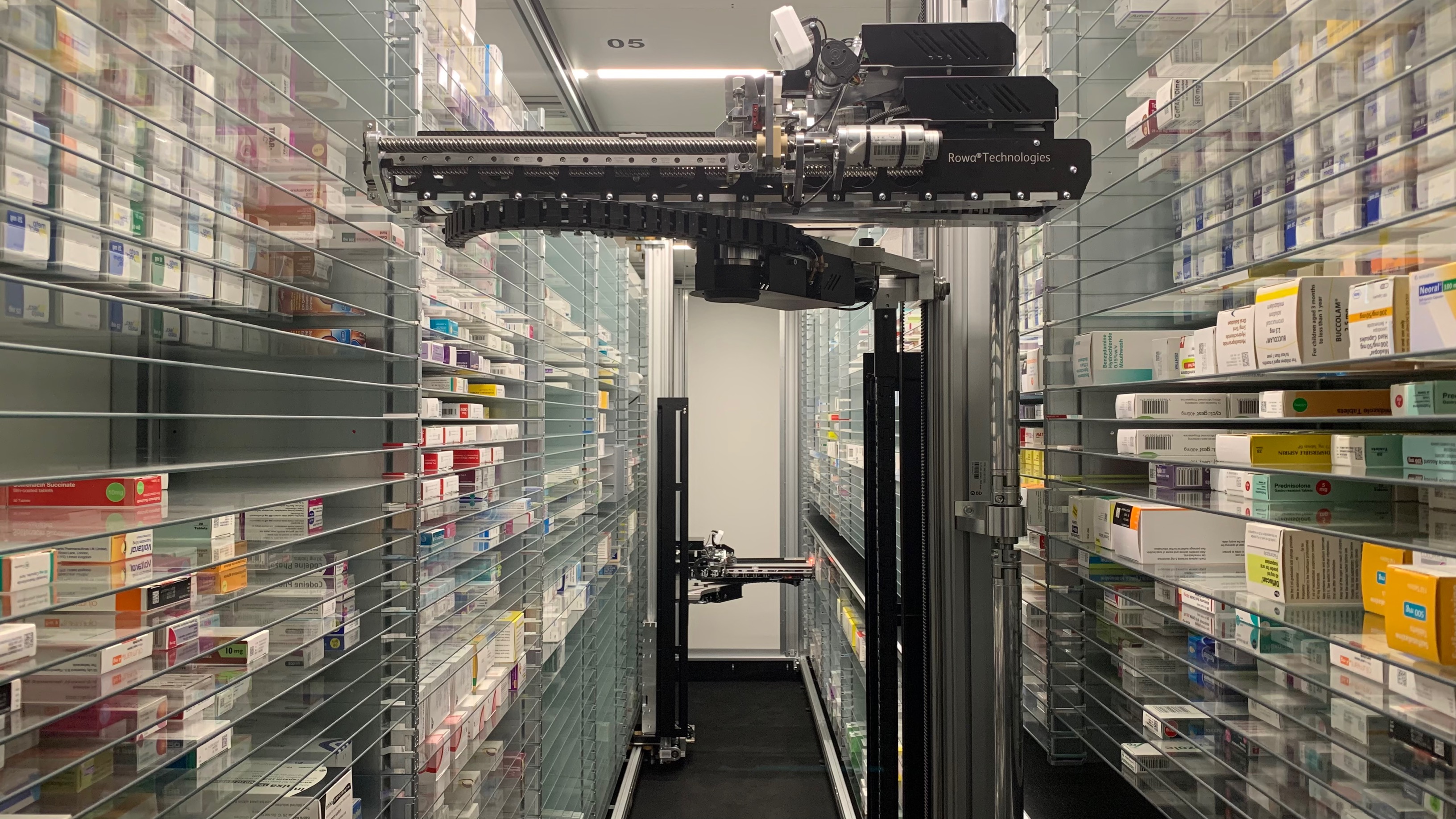 Inside the new pharmacy robot, which is in action at the Outpatient Pharmacy at Sunderland Royal Hospital.
The arms also select items ordered via the computer system. The tech uses information it gathers from its work and puts most frequently picked items nearest the delivery chute to make it more efficient.
During down time, the robots arms clean inside the storage space to keep it in good condition. The technology also keeps track of all used by dates, helping the team to stock take and keep patients safe.
The pharmacy space also has its own walk-in refrigeration room, which is an improvement on the five small fridges used before. These are used to keep drugs, such as insulin, at the right temperature.
The work has been undertaken by Robertson Construction North East.
It is involved in a number of developments on the same site, including a £6.2 million revamp of Maternity and a £2 million project which will see the Investigation and Intervention Unit open later this year.
It is working alongside the Trust to help improve the experience for staff, patients and visitors, while keeping areas open so that services can continue to run,
Garry Hope, Managing Director, Robertson Construction North – East, said:
"The new pharmacy creates an enhanced working environment along with a home for the new robot which will help improve efficiencies.

"We look forward to continuing our works and supporting the Trust in delivering its vision of delivering excellence in all that it does."
The pharmacy is open from 9am to 5.30pm Monday to Thursday and 9am to 5pm on Friday.