Published on: 25 August 2020
A mural created by a Healthcare Assistant working on the frontline in the fight against coronavirus, has been unveiled at South Tyneside District Hospital today.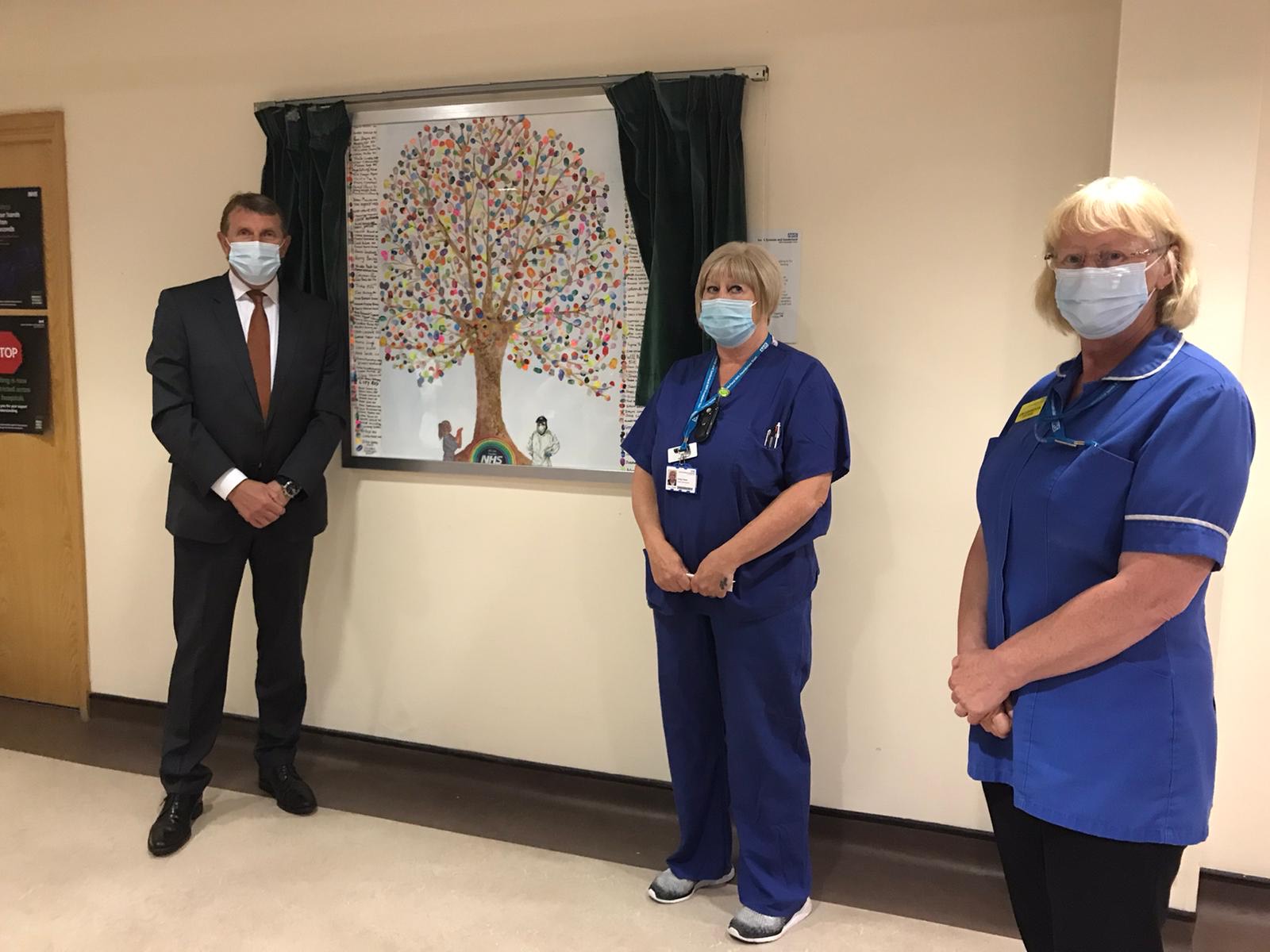 Evelyn Frame, 62, a Health Care Assistant at South Tyneside and Sunderland NHS Foundation Trust painted the 'Tree of Life' as a tribute to all of the frontline staff who worked in the Intensive Therapy Unit (ITU) at South Tyneside District Hospital, during the height of the COVID-19 pandemic.
The leaves on the tree are made up thumb prints of all of the individuals who worked on the unit, including consultants, nurses, doctors, healthcare assistants, physiotherapists, pharmacists, porters, domestic and catering staff, ward clerks and community nurses.
Evelyn, who has worked on the unit for four years, said: "During the pandemic staff from all areas of the hospital came together to care for our patients fighting COVID-19.
"The tree represents our colleagues supporting each other during difficult circumstances and symbolises how a team can be united.
"I hope that this can be a piece of history for generations to come, so that people can see the names of the dedicated staff who worked tirelessly during the pandemic.
"I would like to thank Staff Nurse June Dodsworth who donated the money to create this piece of art, as well as my team who have been like a second family during this time."
Unveiling the artwork, Ken Bremner, Chief Executive of South Tyneside and Sunderland NHS Foundation Trust, said: "Over the last few months all of our teams have shown extraordinary resilience in the face of such adversity and I have never been more proud to lead this organisation.
"I hope that each time a patient, a visitor or a staff member walks past this mural, they will be reminded of the courage and compassion shown by our staff and the significance of the role that they all played in the response to COVID-19."
The mural will be displayed outside of the Discharge Lounge in the main concourse at South Tyneside District Hospital.