Published on: 10 December 2019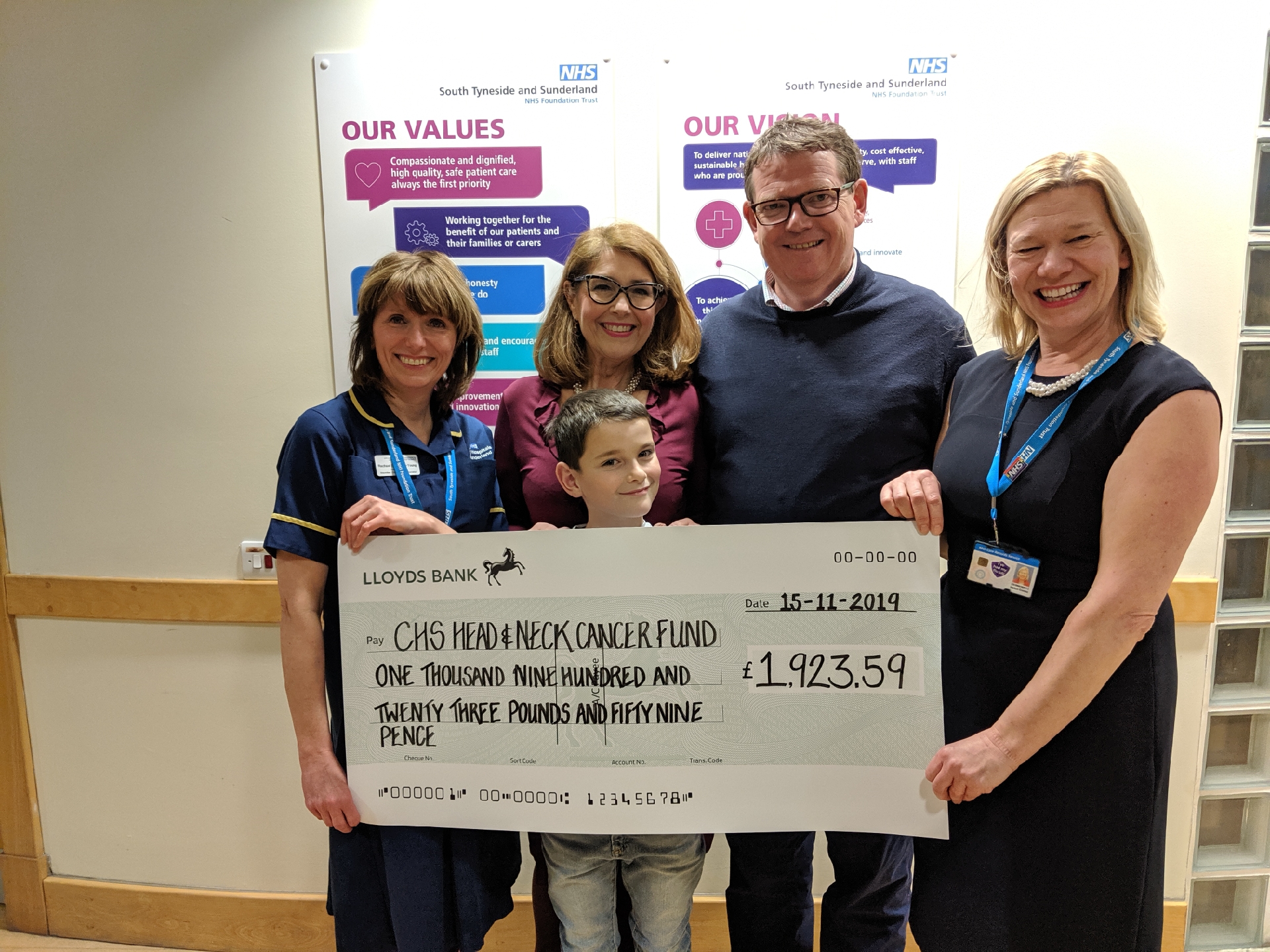 Budding athlete Benjamin Miller has handed over a cheque for more than £1,900 to Sunderland Royal Hospital's head and neck cancer charitable fund to say 'thanks for saving my mum'.
Eight-year-old Benjamin, of Chester-le-Street, raised the money by taking part in the Mini Great North Run in September.
Just over a year ago, Suzanne Miller underwent a nine-hour operation at Sunderland Royal, led by Consultant Head and Neck Surgeon Miss Helen Cocks. This followed a diagnosis of tonsil and neck cancer after the discovery of a lump in her neck. A six-week schedule of weekly chemotherapy and daily radiotherapy five days a week at The Northern Centre for Cancer Care, based at Newcastle's Freeman Hospital, ensued. Throughout her treatment, she had the support of Sunderland's head and neck Macmillan cancer nurse specialists and the wider multi-disciplinary team. Happily, she is now much better.
Benjamin, a pupil at Red Rose Primary School in Chester-le-Street, loves all sports, including football, tennis, running, and golf. He competed in the under 8s world championships in North Carolina, USA, in July. When he obtained a place in the Mini Great North Run, he decided he wanted to raise money as a thank-you to the team who treated and cared for his mum. He did so cheered on by his mum, dad Simon, brother Archie, 17, and his grandmother Anne Middleton.
Mrs Miller said: "I am the proudest mum in the world. What Benjamin has achieved is amazing."
Mrs Miller has also done some fundraising of her own. To celebrate her 50th birthday last month (November), she organised a party to which she invited around 160 people who have been there for her every step of the way during the past year. The money raised will be shared between the head and neck charitable fund and Maggie's, which is based at the Freeman Hospital and which provides free, practical, emotional and social support to people with cancer, and their family and friends.
Mrs Miller said: "If it wasn't for the fantastic medical and support teams who have treated and cared for me and who continue to give me ongoing care, I wouldn't be here today so this is my way of saying a big thank you from me and my family for all they have done. The money we raise will help them to help others."
Rachael Bannister-Young, Macmillan Head and Neck Cancer Nurse Specialist at Sunderland Royal Hospital, said: "We can't thank Benjamin enough for his incredible fundraising effort and we're very touched that Suzanne and her family want to do even more. The money raised will help us to improve the quality of life for people with head and neck cancer and raise awareness around what is one of the lesser-known cancers."
The head and neck cancer charitable fund at Sunderland Royal Hospital is part of South Tyneside and Sunderland NHS Foundation Trust's charity.