Published on: 28 July 2020
School children and young people from across the region are supporting South Tyneside and Sunderland NHS Foundation Trust's 'smokefree' campaign.
The voices of the youngsters from Mortimer Comprehensive School (South Shields), Diamond Hall Junior Academy (Sunderland), St Mary's Catholic Primary School (Jarrow), and the Trusts' Young Persons Group, can now be heard over a new tannoy system at hospital entrances, reminding people that smoking is no longer allowed on site.
The Trust is taking every possible step to protect patients, visitors and staff from the harms of tobacco as part of achieving its goal of becoming a smokefree organisation. The tannoy system is just one part of that commitment.
Now, whenever someone is seen smoking on site any member of staff or the public can press the red 'no smoking button', which will play a pre-recorded message out loud via the tannoy speaker.
Ken Bremner, Chief Executive at South Tyneside and Sunderland NHS Foundation Trust, said: "As a healthcare organisation we are committed to improving the health and wellbeing of our staff, patients and visitors and our vision to become a smokefree Trust, is a part of this commitment.

"Becoming a smokefree organisation will help to create a healthier environment for everyone. Not permitting smoking on site will especially help our patients who are particularly vulnerable to the harmful effects of second hand smoke."
Across South Tyneside and Sunderland, smoking costs the NHS around £22.7m.
South Tyneside - £7.8m
Sunderland - £14.9m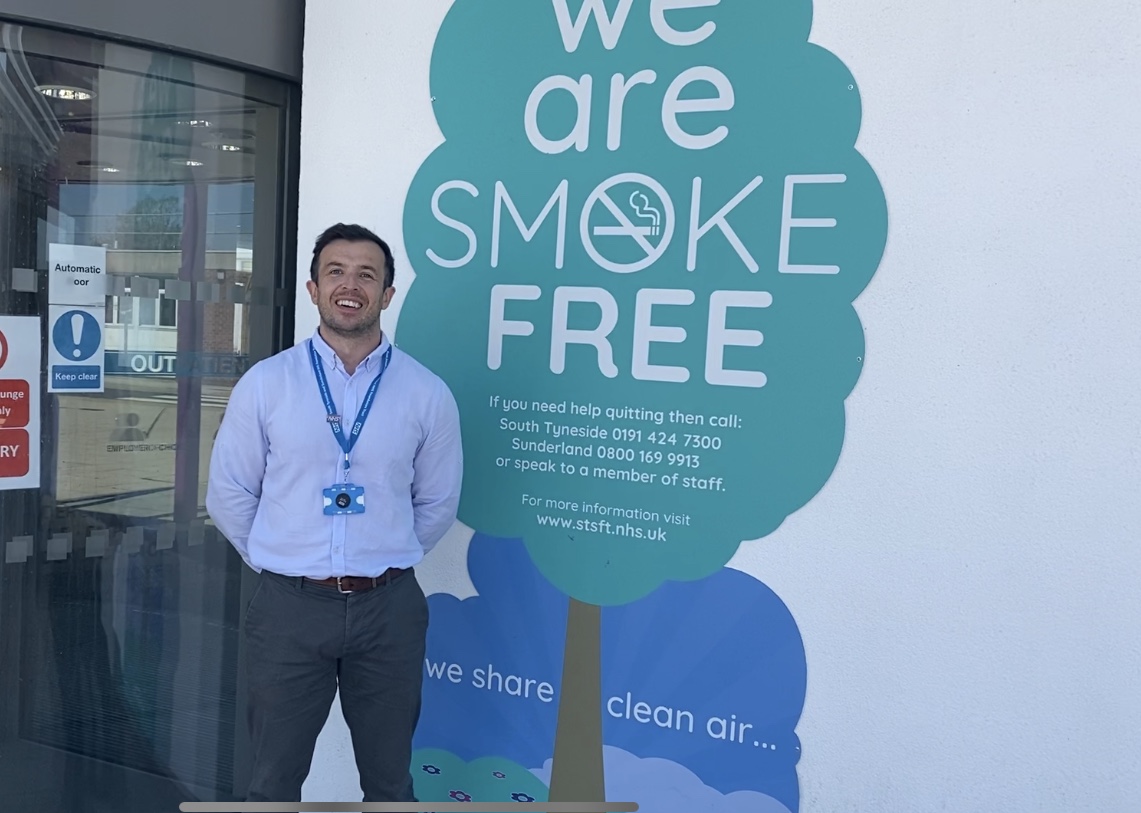 Ryan Swiers, Public Health Consultant at South Tyneside and Sunderland NHS Foundation Trust, said: "We know that becoming smokefree is so much more than just having a smokefree site. We want to improve the health of our patients by discussing the harms of tobacco with them and offering practical support to help them make a quit attempt.
"Around one in six adults in South Tyneside and Sunderland are smokers and smoking remains the largest cause of ill health and premature death across the region.
"Stopping smoking will bring immediate benefits to your health, including if you have an existing smoking-related disease. This is particularly important for both you and for the NHS at a time of intense pressure."
The Trust is committed to improving the health of its patients by providing them with the tools and support they need to help them make a quit attempt. What this means for the public:
It is not permitted to smoke on any South Tyneside and Sunderland NHS Foundation Trust site.
Inpatients will be offered Nicotine Replacement Therapy to help them manage any cravings for the duration of their hospital stay. They will also be offered a referral for ongoing support.
Anyone found smoking on Trust premises will be politely asked to put out their cigarette, or move offsite.
The Trust supports the use of e-cigarettes/vapes in the grounds but not inside buildings. For the comfort of others it asks that you do not use these at the entrances of buildings or near any windows.
As part of its commitment to become smoke-free, from September 2020 the Trust will also be removing designated smoking areas like smoking shelters from all of its sites.
The decision to go smoke-free is in line with The Health Act (2006) and The National Institute for Health and Care Excellence (NICE) 2013 guidelines which state that all hospital sites should be 100% smokefree.
If you have any queries about the Trust's smokefree pledge, please email STSFTprevention@nhs.net
For further advice and support to stop smoking contact:
Patients from South Tyneside can refer themselves to the Change4Life Stop Smoking Service by calling 0191 424 7300
Patients from Sunderland –can call the Sunderland NHS Specialist Stop Smoking Service on 0800 169 9913.
Or you can call the national NHS Smoking Helpline number 0300 123 1044