Published on: 26 May 2020
Staff at hospitals in South Tyneside and Sunderland are doing their utmost to ensure that relatives of coronavirus patients who cannot be with their loved ones at the end of life have memories to cherish.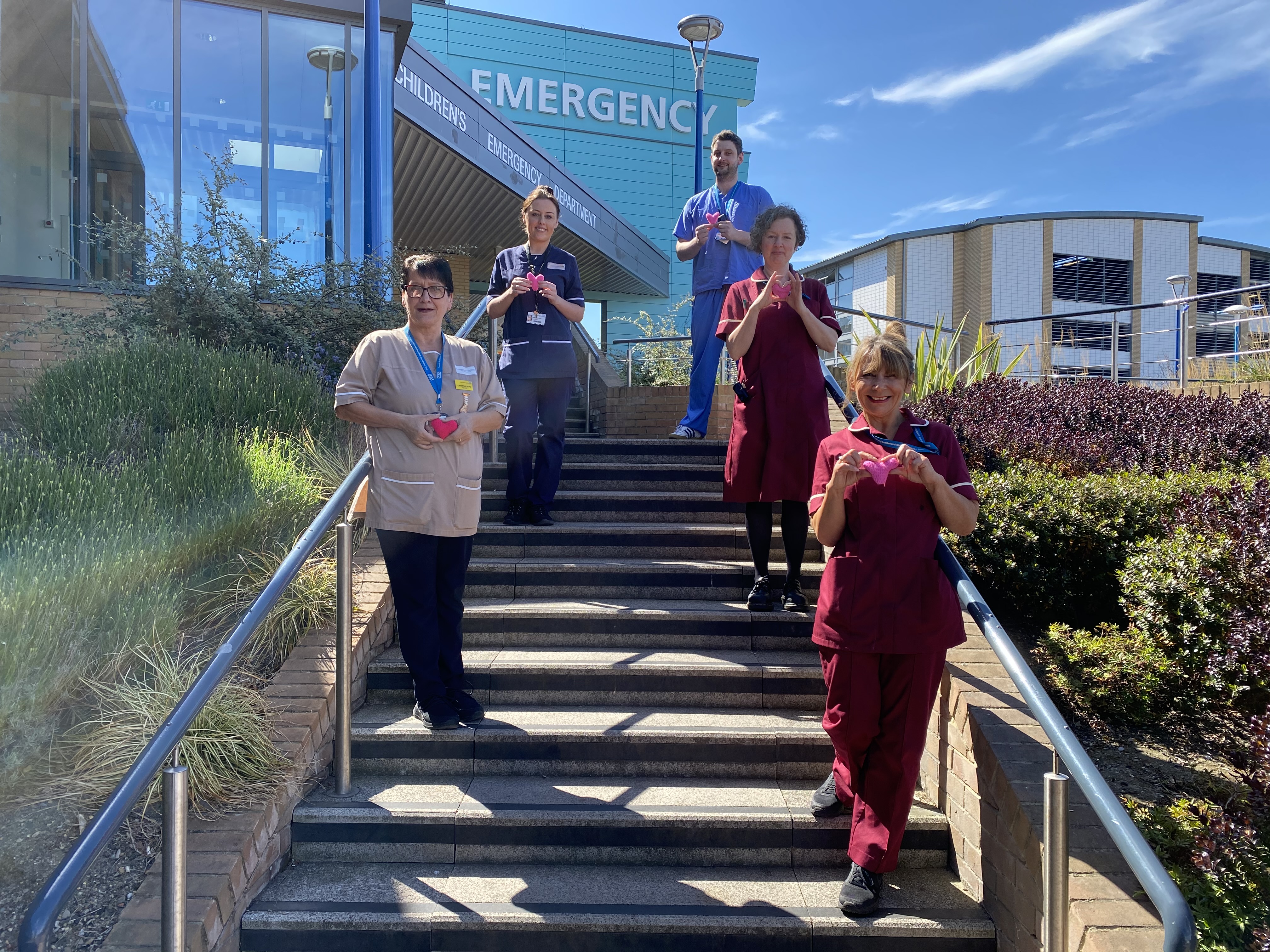 An appeal for knitted or crocheted hearts, which can be offered as a symbol of condolence, has met with an overwhelming response, with thousands being donated.
Dr Anna Porteous, Consultant in Palliative Medicine based at South Tyneside District Hospital, said: "At this traumatic time, it is so important that we continue to demonstrate the compassion that we are usually able to offer to patients' loved ones face-to-face on a regular basis.
"It is clear from the messages we receive with many of the donated hearts that those involved in crafting them are finding it therapeutic and rewarding to be involved in this project and staff are grateful for the opportunity to offer this personal, caring touch. As a symbol of their care, a member of staff who has got to know the patient well can write a personal message of condolence in a card, sending this with a donated heart and a small packet of Forget Me Not seeds to the patient's family."
Visiting across South Tyneside and Sunderland NHS Foundation Trust has been suspended due to the pandemic but exceptions are being considered on compassionate grounds where a patient is believed to be in the last hours of their life. Relatives who cannot see their loved ones in person are still able to share precious moments.
Staff at South Tyneside District Hospital and Sunderland Royal Hospital have been helping to keep patients connected with their family and friends via Face Time on mobile phones and the Trust is introducing iPads on the wards to further aid communication. Staff, including consultants, are providing relatives and carers with regular updates by phone.
The palliative care teams at both hospitals, including consultants and specialist nurses, have increased their visits to the wards, not only to support patient care but also to support staff.
Sonia Thompson, Specialist Palliative Care Nurse at Sunderland Royal Hospital, said: "Our hearts go out to families and we want to do all we can to support them. This is also a very upsetting time for our staff; they get to know the patients and they may be fearful for their own health so we are very conscious of the need to give them the emotional and psychological support they need."
One frontline health worker has her own message of reassurance for relatives of coronavirus patients who may be concerned that their loved one could be alone at the end of life. Chris Hope is a healthcare assistant at Sunderland Royal Hospital. She and her colleagues at Sunderland and South Tyneside are working tirelessly to ensure patients receive the very best care and are comfortable in their final hours.
Chris said: "We all care very much and I think it's so important for people to know that there are people sitting with their loved ones at end of life, holding their hand, talking to them and reassuring them."
The Trust has launched a new initiative, #SendingLove, to enable people to send messages, letters and photographs for their loved ones in hospital, whether or not they are COVID-19 patients. These are then delivered to the wards. Anyone wishing to join in #SendingLove should:
send your message in an email: stsft.sendinglove@nhs.net and include the patient's full name, date of birth and where they are in the hospital i.e. site and ward name
or post a letter to:
Communications Team #sendinglove
Freepost RTYX-GKEH-BRGJ
South Tyneside and Sunderland NHS Foundation Trust
South Tyneside District Hospital
Harton Wing, Harton Lane
South Shields
NE34 0PL